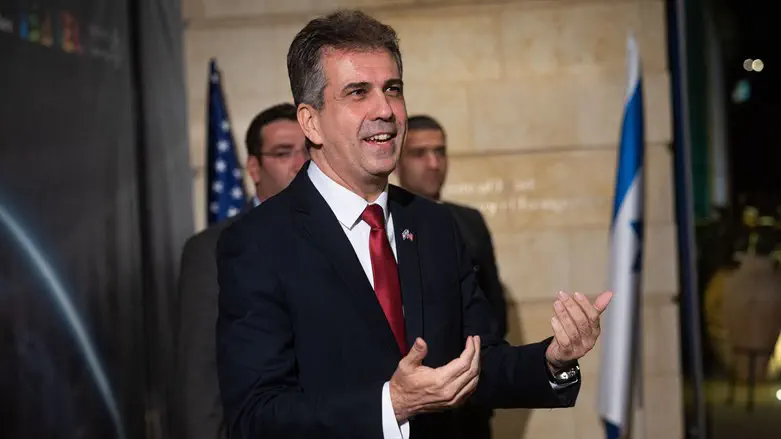 Eli Cohen
Yonatan Sindel/Flash 90
Foreign Minister Eli Cohen on Saturday published an op-ed in the British newspaper The Telegraph, in which he warned that Iran is a threat to every country and must be stopped.
"Up until 1979," noted Cohen, "Israel and Iran had normalized and even warm diplomatic relations. The countries do not share a border and there is no animosity between the nations – there is even a mutual appreciation between the two Middle Eastern cultures and peoples that are thousands of years old."
"The breaking point in the relationship between the two countries was the Islamic Revolution," he pointed out. "Since then, Iran's Ayatollah regime has led aggressive and violent anti-Israel and antisemitic policies. It has funded terrorism, called for the disappearance of the State of Israel, and continuously attempted to obtain weapons of mass destruction that will allow the extremist regime to carry out its plan of the ethnic cleansing of Jews from the Middle East. The Jewish people, especially in light of past experiences, must take these threats seriously".
The Foreign Minister added, "The fingerprints of the Iranian Islamic Revolutionary Guard are all over the Middle East as well as Asia, Europe, and America. Its terrorism reaches Lebanon through Hezbollah, Gaza through the Palestinian Islamic Jihad, Syria, Yemen, and more."
"Iran is cancerous, expanding and damaging each and every place it reaches. Iran undermines global security and threatens the existence of the State of Israel. There is no other country that is threatened by another country's public calls for its destruction, as it pursues the development of nuclear weapons," he warned.
Israel, stressed Cohen, "will never allow Iran's terror regime in Tehran to obtain a nuclear weapon. We are determined, and we will not hesitate to use all the means at our disposal for this purpose. We have already proved that we are capable of reaching Iran's most hidden secrets, and I suggest that the Ayatollah's regime does not test our capabilities."
"Up until now, the international community's attempts to foil Iran's pursuit of an illegal military grade nuclear weapon have not been fruitful, and the Iranian government disregards all international norms: it lies, it misrepresents. The International Atomic Energy Agency (IAEA) recently published a report showing that Iran had enriched uranium to a level close to 90 per cent enrichment," added Cohen.
The Foreign Minister pointed out that "the international community has failed in dealing with the Iranian regime" but added that "there is still hope. A firm and determined international stance against the extremist Iranian regime, economic and political pressure, as well as a significant and credible military threat can bring about a change in Iranian policy both externally and internally, towards its citizens."
"I call on the countries of the world: Iran is making the world a more dangerous place and is systematically violating human rights. Stop burying your head in the sand, it's time to act," he concluded.