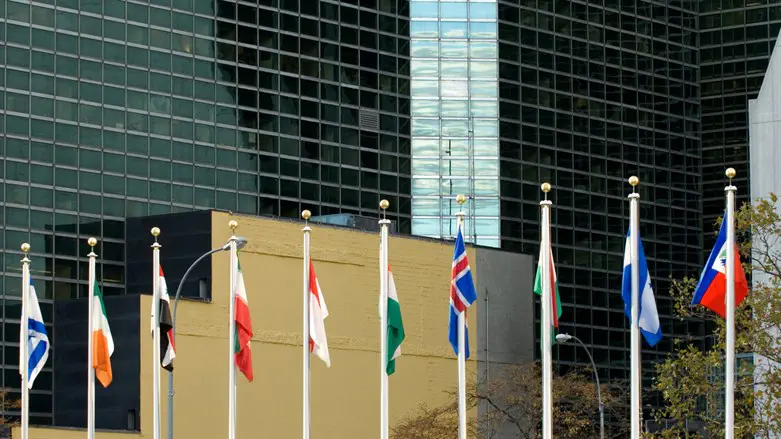 United Nations headquarters
ISTOCK
The United States, on behalf of 27 countries, on Tuesday condemned the open-ended nature of a UN investigation into alleged human rights violations by Israel against Palestinian Arabs and its "disproportionate" attention on Israel, AFP reported.
US ambassador Michele Taylor told the United Nations' Human Rights Council that the group of countries was "deeply concerned" about the Commission of Inquiry (COI), with its "open-ended mandate with no sunset clause" or closing date.
The countries, including Austria, Britain, Canada and Italy, demanded an end to the "long-standing disproportionate attention given to Israel in the council", according to AFP.
The COI, which is the highest-level investigation that can be ordered by the Human Rights Council, was set up in May 2021 following a surge in deadly violence between Israelis and Palestinian Arabs earlier that month, during Operation Guardian of the Walls.
The Commission of Inquiry released a report last June accusing Israel of "war crimes" during Operation Guardian of the Walls.
In October of that year, the Commission of Inquiry published a second report accusing Israel of violating international law and calling on the UN Security Council to put an end to the "permanent occupation" of Palestinian Arab territories by Israel.
The first-ever open-ended COI is being conducted by UN rights chief Navi Pillay of South Africa, along with India's Miloon Kothari and Chris Sidoti of Australia.
Pillay has a history of anti-Israel statements. In 2014, she condemned Israel for "targeting" UN-run schools and hospitals in Gaza, while failing to mention three UN-run schools in Gaza had been used as rocket warehouses, a gross violation of international law that clearly falls within the category of war crimes.
Weeks before that, Pillay opened an emergency UN debate on Gaza by saying there is a "strong possibility" that Israel is violating law in Gaza, and that could amount to war crimes.
Kothari last year caused an uproar when he claimed that social media is controlled by a "Jewish lobby" and questioned why the Jewish state is a member of the United Nations.
Following the backlash, he sent a letter to the President of the UN Human Rights Council in which he apologized for the comments and apologized for using the words "the Jewish lobby."