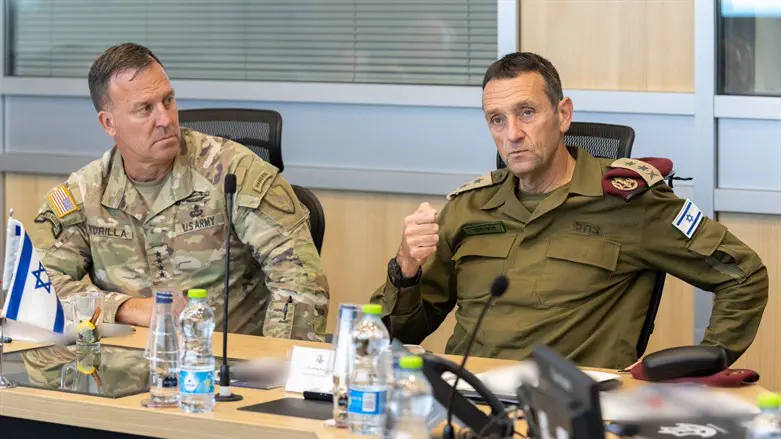 General Michael E. Kurilla and Lieutenant General Herzi Halevi
Courtesy
On Tuesday morning, the Commander of US Central Command (CENTCOM) General Michael E. Kurilla, landed in Israel for a visit as part of the IDF's General Staff exercise "Firm Hand."
Kurilla's visit will take place over the course of three days and began in Unit 504, the HUMINT (human intelligence) unit of the IDF's Intelligence Directorate (J2). During the visit, the general was presented with the unit's latest activity, as well as with the changes and developments in the field of HUMINT and the plans for the unit's continued activity.

Afterward, the Chief of the General Staff, Lieutenant General Herzi Halevi, led an operational panel during which the senior commanders discussed cooperation between the IDF and the US Armed Forces, the strengthening of joint operational capabilities, the continued design of professional plans and operational coordination.
Kurilla participated in a situational assessment that took place at the General Staff Operations Center, as part of the General Staff exercise "Firm Hand." Among the matters presented in the situational assessment were the way the exercise tests the IDF's readiness for a campaign in multiple arenas simultaneously, innovative combat methods and adapted military capabilities with an emphasis on the operational partnership with the US Armed Forces.

Additionally, the IDF Chief of the General Staff and the Commander of US CENTCOM conducted a private professional meeting.

The US Armed Forces and the IDF will continue strengthening their operational relationship with a mutual commitment to maintaining regional security.