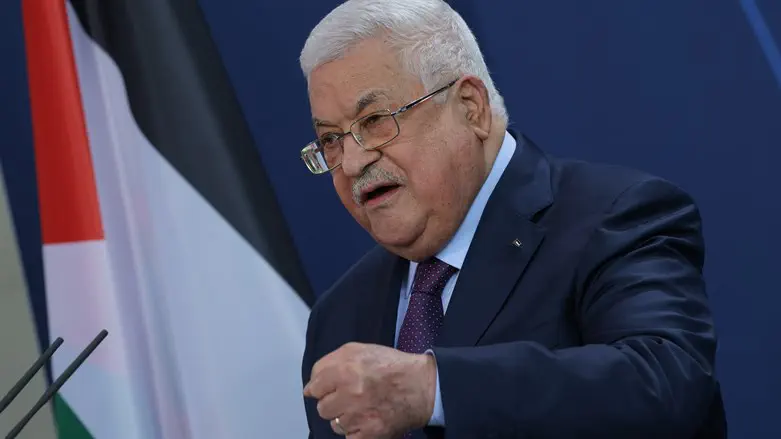 Palestinian Authority Chaiman Mahmoud Abbas speaks to the media in Berlin, Aug
Sean Gallup/Getty Images
US Special Envoy to Monitor and Combat Antisemitism Amb. Deborah E. Lipstadt strongly criticized Palestinian Authority chairman Mahmoud Abbas for his speech at the UN's 'Nakba Day' event on Monday.
"PA President Abbas's equating Israel with the lies of top Nazi propagandist Joseph Goebbels is an affront to Holocaust victims and survivors. Especially during a time of rising antisemitic violence throughout the world, such rhetoric about the world's only Jewish state is entirely unacceptable," Lipstadt wrote on Twitter today (Wednesday).
In his speech to the UN on Monday, Abbas demanded that the organization suspend Israel's membership and accused the Jewish State of a litany of crimes against humanity.
"We demand today, officially, in accordance with international law and international resolutions, to make sure that Israel respects these resolutions, or suspend Israel's membership in the UN, particularly since Israel never fulfilled its obligations and the prerequisites for its membership in this organization that they committed to implementing," Abbas said.
"Israeli and Zionist claims continue by saying that Israel made the desert bloom. As if Palestine was a desert and they made the desert bloom," he said. "These are lies. They continue to lie, like Goebbels, and they continue to lie until people believe their lies and they continue therefore their false claims by saying that Israel made the desert bloom. Palestine was never a desert."
He further accused the US and Britain of conspiring to create a Jewish State in the Middle East in order to ship their undesirable Jews there and denied any Jewish connection to the Temple Mount, the holiest site in Judaism.