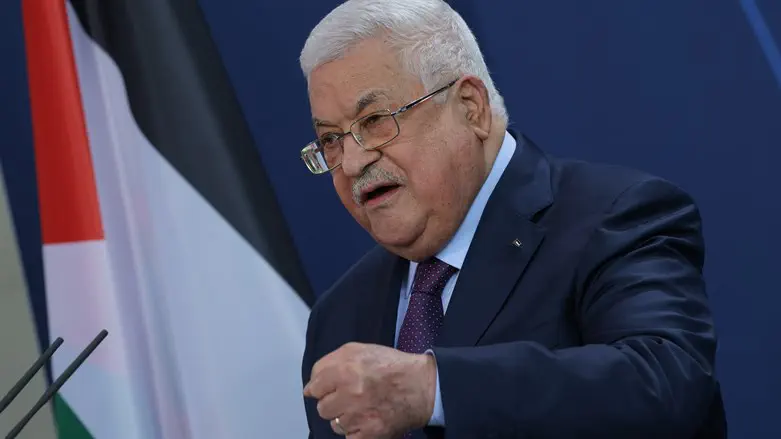 Palestinian Authority Chaiman Mahmoud Abbas speaks to the media in Berlin, Aug
Sean Gallup/Getty Images
Palestinian Authority chairman Mahmoud Abbas demanded that the United Nations take the unprecedented step of suspending Israel's membership in the organization if it does not give in to his demands to create a Palestinian Arab state and to accept millions of descendants of refugees from the 1948 War of Independence.
Addressing the 'Nakba Day' event held at the UN today, Abbas claimed that Israel's acceptance as a UN member was contingent on its fulfillment of the 1947 UN Partition Plan and General Assembly Resolution 194, which called for refugees who were willing to live in peace to be allowed to return to their former homes following the war. "Forcing Israel to implement these two resolutions was a condition, a prerequisite for their membership in the UN at the time. However, sadly, certain countries — we all know we are talking about, we will mention them later — in this organization have deliberately obstructed the implementation of these resolutions in a practice that undermines justice, ethics and human values."
"We demand today, officially, in accordance with international law and international resolutions, to make sure that Israel respects these resolutions, or suspend Israel's membership in the UN, particularly since Israel never fulfilled its obligations and the prerequisites for its membership in this organization that they committed to implementing," he said.
The PA chairman further accused the British and American governments of creating the State of Israel in order to "get rid of their Jews."
"Britain and the United States specifically bear political and ethical responsibility directly for the Nakba of the Palestinian people, because they took part in rendering our people a victim when they decided to establish and plant another entity in our historic homeland for their own colonial goals. These countries wanted to get rid of their Jews and benefit from their presence in Palestine," Abbas said.
Abbas further stated that right-wing Israeli Ministers "Ben-Gvir and Smotrich are calling for the expelling of Palestinians out of their homes and demolishing their homes and displacing them, which the Israeli government itself is doing led by who? It is led by Netanyahu."
"Netanyahu and other and even worse people, Smotrich and Ben-Gvir, this is what they're calling for. Some people are calling for massacring Palestinians and this is what happened in Huwara," he said.
Abbas falsely accused Israeli National Security Minister Itamar Ben-Gvir of questioning why the residents of Huwara were not massacred.
"When things happened in Huwara, Ben-Gvir said: 'Why didn't you massacre them?' So what happened in Huwara, the killing and burning of houses and properties by terrorist settler gangs, happened under the protection of the Israeli army," he claimed.
The Zionist movement accepted the 1947 Partition Plan, Resolution 181, while the Arab side rejected it and immediately launched attacks against the Jewish population of what would become the State of Israel in an effort to prevent the establishment of a Jewish State. Both the Partition Plan and Resolution 194 were General Assembly resolutions, which are legally non-binding and irrelevant to Israel's acceptance as a member of the UN, contrary to Abbas' claims.
Israeli Ambassador to the UN Gilad Erdan sent a letter to all UN ambassadors ahead of today's 'Nakba Day' event calling on them to boycott the event.
"On May 14, 1948, the State of Israel declared its establishment in line with the United Nations' 1947 Partition Plan. The Arab states, including the Palestinians who lived in Israel, rejected the Partition Plan, and immediately following Israel's declaration of independence, five Arab armies invaded Israel in order to obliterate the nascent state," the letter opened, adding: "75 years later, on Monday, May 15, the United Nations will commemorate the momentous occasion of Israel's independence, not by celebrating Israel and its accomplishments, but rather by holding a special event in the General Assembly branding Israel's establishment as the Nakba – the catastrophe in Arabic."
The letter continues: "The thought that an international organization could mark the establishment of one of its member states as a catastrophe or disaster is both appalling and repulsive. This event is a blatant attempt to distort history, neglecting the fact that those who paint themselves as the victims were actually the aggressors who initiated a five-front war on the newly established State of Israel. This horrifying falsification must not be condoned in any way, shape, or form."
Erdan turned to his fellow ambassadors and said: "Those who attend one-sided hypocritical initiatives, such as the abominable event taking place on May 15, only serve to promote the antisemitic practice of holding the Jewish state to a different standard than any other member state. Not only does this condone Jew-hatred, but it also gives a green light to the Palestinians to continue exploiting international organs to promote their libelous narrative. Attending one-sided Palestinian initiatives that falsely brand Israel as the source of all evil does not bring the conflict closer to an end but only serves to inflame tensions."