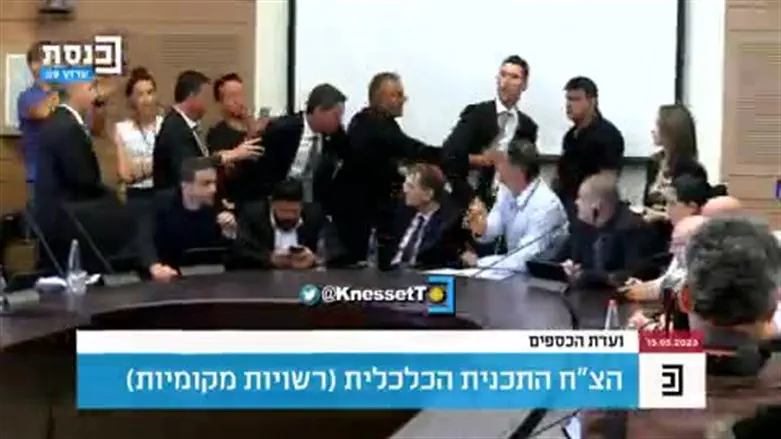 MK Roll removed from the hearing room
Knesset Channel
An Opposition lawmaker was ejected from a Knesset committee hearing Monday, only to be allowed to return after it was found that his removal violated Knesset protocols.
MK Idan Roll (Yesh Atid) was ejected during a raucous meeting of the Knesset's Finance Committee, headed by MK Moshe Gafni (United Torah Judaism), for attempting to shout down speakers during the hearing.
Roll and other Opposition MKs protested the government's Arnona Fund plan, a proposal drafted by the Finance Ministry with the goal of encouraging towns and cities to shift their allocation and zoning of land away from commercial use and towards housing, in order to alleviate the high cost of living.
The Yesh Atid MK protested that he could not be removed in the middle of a committee vote, but was removed nevertheless.
Since Knesset protocol requires that the ejected MK be able to appoint a replacement to vote in his or her stead, when no replacement was found, Roll was permitted to return to the hearing.
The proposed Arnona Fund would serve as both a de facto tax on commercial zoning and a transfer of wealth from high-income municipalities to lower-income towns, incentivizing both to zone more land for residential construction.
Under the plan, municipalities would pay a tax on the property taxes they collect from commercial real estate - a progressive tax which would place more of the burden on high-income towns and cities.
The money collected from this fund would be used to subsidize lower-income municipalities as an incentive for building more housing units.
The plan sparked a backlash from local leaders Sunday, leading to a municipal strike in dozens of cities and towns across Israel Monday.
Critics claimed the plan would deprive cities of much-needed revenue, adding that once approved, the Arnona Fund could be modified by the government to serve other purposes besides encouraging housing construction.
Some Opposition Members also took aim at the fact that Israeli towns in Judea and Samaria would be exempt from the tax for the fund, due to their legal status beyond the Green Line.
כמעט מכות בועדת הכספים
ערוץ כנסת