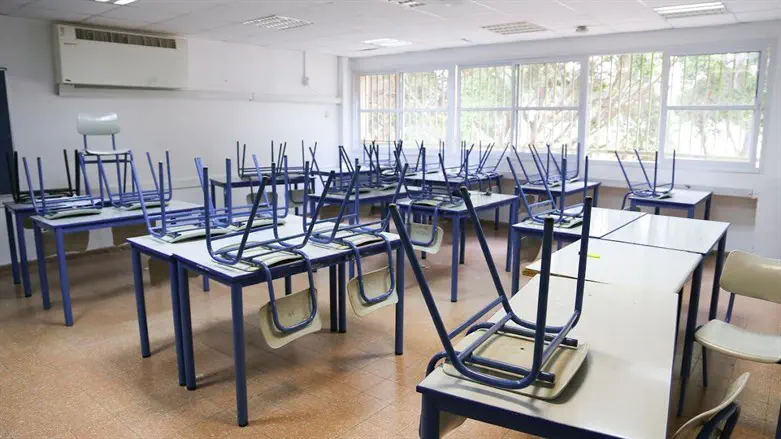 Empty classroom
shutterstock
Dozens of authorities, including cities and local councils, went on strike Monday, suspending all municipal services, including the education system, as part of the protest by local governments against the establishment of the Arnona Fund. The strike will not impact matriculation exams in mathematics or special education.
Despite the decision by the Federation of Local Authorities to launch the strike, a significant portion of municipalities have declared that they will not join the protest.
In Jerusalem, all municipal services will continue as usual, as well as in the Samaria Regional Council, communities surrounding the Gaza Strip, and a number of other communities.
Among the cities affected by the strike are Tel Aviv, Givatayim, Haifa, Shoham, Ashdod, Hod HaSharon, Rishon LeZion, Modi'in, Yavne, Beit She'an, Tiberias, Kfar Saba, Herzliya, Ra'anana, and Ramat HaSharon.
The mayors of the striking authorities on Sunday castigated the plan drafted by Finance Minister Bezalel Smotrich (Religious Zionist Party), according to which cities and towns will be required to contribute varying amounts, depending on a community's wealth, to a central fund which would subsidize poorer towns.
The fund's stated purpose is to increase the supply of affordable housing, by pressuring wealthier municipalities to zone more land for residential use, incentivizing the shift by appropriating a percentage of income garnered from taxes on commercial properties.
Under the new arrangement, the funds appropriated from taxes on commercial properties would be transferred to lower-income communities for every new housing unit approved.
"This law is not acceptable to the Federation of Local Authorities," said Modi'in-Maccabim-Reut Mayor Haim Bibas on Sunday. "We oppose it and have opposed it from the beginning. It is contrary to any concept of municipal rule and central government-municipal government relations."
"We would be very happy if this chapter were to be removed from the agenda without votes - and forgotten by history. But we all understand that the game is rigged in advance by the automatic coalition majority. With this understanding, we acted in every possible way to reduce and minimize the damages caused as a result of this bill - and the result is this compromise that is now being presented in the committee that I wish had never come here at all."