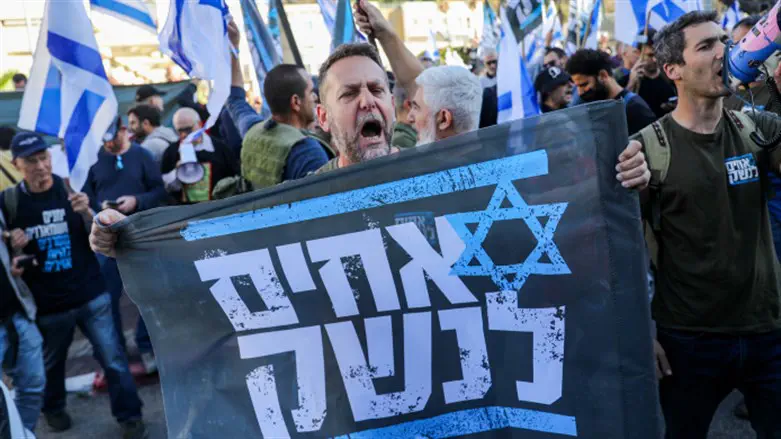 Protest in Bnei Brak
Flash90
A massive protest march is being planned for Thursday evening in Bnei Brak, with police deploying huge contingents in the hope of preventing the event from descending into violence. Protesters have already clashed with police in the course of their "Day of National Paralysis," with dozens arrested.
However, the decision to hold a protest in Bnei Brak, a majority haredi city, has apparently split the protest movement, with one prominent organization within it, the "Standing Together" group, disassociating itself from the march and planning an alternative protest in Tel Aviv.
The Standing Together group issued a statement saying: "Our struggle is against the policies of the government, not against any community. The protests against the haredi residents of Bnei Brak are illegitimate and mistaken, as they pit people against each other instead of the people against the regime. All of us -- religious and secular, Jews and Arabs, those in the center of the country and those in the periphery -- all of us have the same interest as this government is harming us all. We will make a stand in the streets against this out-of-touch and tone-deaf government and declare: This country belongs to us all."
The group added that, "Standing Together will be holding an alternative demonstration at seven p.m. at Dizengoff Square in Tel Aviv, in the wake of the decision by some of the protest's organizers to march in Bnei Brak."
Meanwhile, Bnei Brak Mayor Avraham Rubinstein was interviewed on Galei Tzahal (Army Radio), and expressed his disappointment that Israel Police was allowing the march through Bnei Brak to go ahead.
"The protesters are trying to force the haredi community to take sides, despite their wish to remain on the fence," he said. "The haredi community doesn't want to be dragged into this, but they are bringing it to our homes. If the police had an iota of sense they would tell the protesters: Excuse me, but this is not the place for this."
Prime Minister Netanyahu has appealed to haredi leaders to ensure that the protest in Bnei Brak does not degenerate into open conflict between protesters and residents, praising Bnei Brak's rabbis for issuing proclamations telling the city's residents to keep their distance and not engage with the protesters.