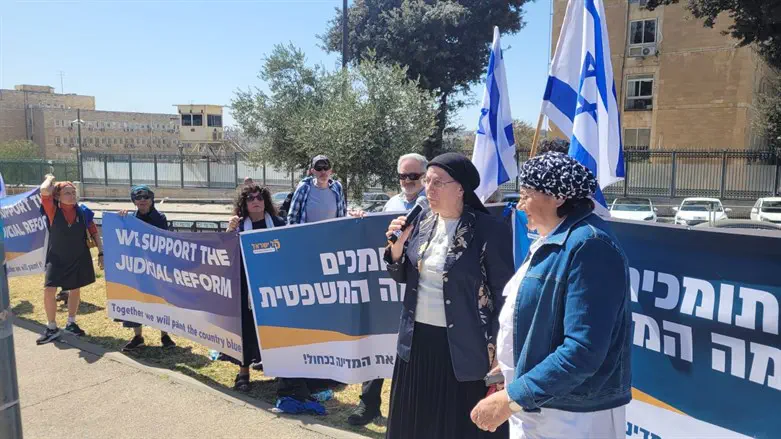 Orit Struk at Sovereignty Movement demonstration
Meir Elifur
The Sovereignty Movement joined the battle today (Sunday) in support of judicial reform.
Dozens of the movement's activists came together with the heads of the Sovereignty Movement, Yehudit Katsover and Nadia Matar, for a vigil of support for the legal reform opposite the government meeting in Jerusalem. The movement was initiated by the "Kol Yisrael" movement and will intensify its activity in the near future.
During the vigil, Minister Orit Struk and MK Ohad Tal from the Religious Zionism party came to support the activists and thank them for their show of support.
Yehudit Katsover, one of the leaders of the Sovereignty Movement, said: "We came to strengthen the government so that it will pass the necessary amendment to the judicial system. Until now, we have voted Right and received Left. Only with the amendment of the judicial system will there be true democracy here. The reform is absolutely necessary for true democracy. The reform comes to repair those aspects relating to the values of the State of Israel in favor of settlement and in favor of security. We extend our support to Justice Minister Levin and MK Rotman to promote the changes without fear. The people of Israel will win, the national values will win; this is the will of the majority of the people of Israel."
Minister Orit Struck encouraged the activists and said: "You are representatives of the large majority who voted in the elections in favor of reforming the judicial system. That is the agenda for which the people voted, do not let them tell you stories. This public trusts its representatives that they will promote the values for which they elected them, and, with God's help, we will accomplish that. We have no intention of capitulating. We know that the vote in the elections was over the reform, we have no intention of retreating from it. The protest of all the former officials proves that the people of Israel wanted us, and not them, in power and we will fulfill the choice of the people of Israel. There is no media in Israel today. It is all mobilized to the battle of extremist, anarchist Left. The State of Israel will not become a dictatorship. We are abolishing the dictatorship of the High Court of Justice and enabling democracy to emerge."
MK Ohad Tal added: "Thank you for coming to support the government. We must pass the reform. The protests and demonstrations are not against the reform but against the right-wing government in an attempt to topple it. That is why we must continue resolutely in promoting the reform."
In the coming days, members of the Sovereignty Movement, together with others, are expected to continue their activities in favor of passing of the reform. The activists are planning to distribute blue ribbons at intersections throughout the country for people to attach to their cars as an expression of support for the reform.