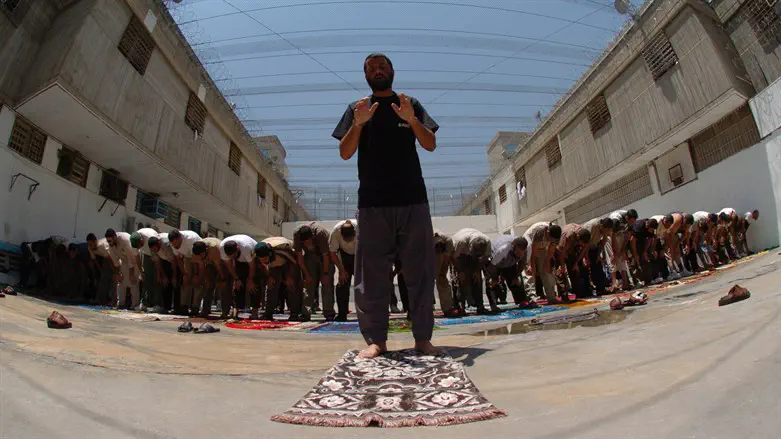 Arab prisoners
Nati Shohat, Flash 90
Tamr al-Za'anin, the spokesperson for the Majhat Al-Quds organization, which handles issues concerning prisoners and dead terrorists, is reporting that a "principal agreement" has been reached between the prisoners and the Prisons Authority amid the tension in Israel's prions sparked by National Security Minister Itamar Ben-Gvir's new policies which harshen the inmates' conditions.
In a conversation with the Palestinian Islamic Jihad affiliated Falastine Al-Yom, al-Za'anin stated that at this point, there is a rough draft containing several articles meant to end the tension, which has, yet the sides have still not come to an agreement.
In an interview with Kol Falastine radio Islam Abdu, the director of the security prisoners office in Gaza, stated that "On Friday, an agreement and a principle understanding were reached to return the situation to the way it was a week ago and to bring the calm back to the prisons."
According to Abdu, "The agreement includes returning prisoners placed in solitary confinement to their regular cells and to return belongings that were confiscated during the recent brash attack by the occupation's prison management."
Abdu adds that the Prisons Authority agreed to return the electricity and water to the Negev Prison and allow prisoners to pray the Friday prayer and that now, the ball is in Israel's court regarding answering the security prisoner's requests.
He emphasized that the "guarantor" for any agreement with Israel is the unity of the Palestinian prisoners and the connection between their struggle and the Palestinians' national struggle since, according to him, the Israeli security establishment is afraid of the consequences of Ben-Gvir's policies.