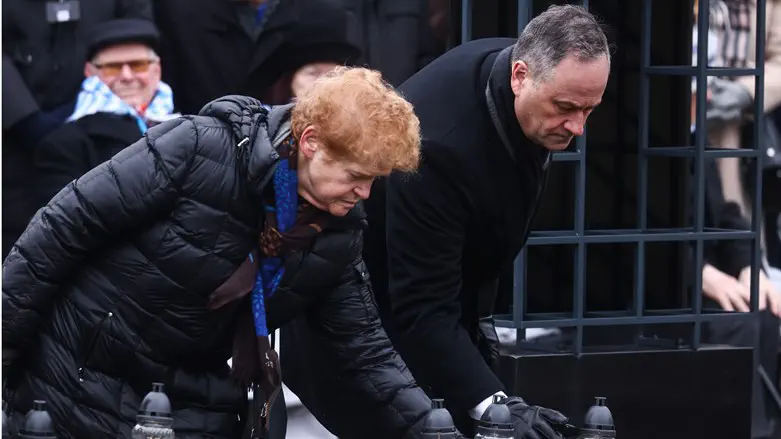 Doug Emhoff and Deborah Lipstadt light candles at Auschwitz
Beata Zawrzel via Reuters Connect
Doug Emhoff, the husband of US Vice President Kamala Harris, met with Ukrainian refugees at a Berlin synagogue and visited the city's Holocaust memorial on Tuesday as he wrapped up a tour of Poland and Germany, reported The Associated Press.
The Second Gentleman took part in a roundtable event with Jewish, Muslim and Christian leaders on interfaith dialogue. He then visited Berlin's New Synagogue, which was badly damaged in the 1938 Nazi pogrom against Jews and then largely destroyed during World War II.
He met with refugees from Ukraine during his visit to the synagogue, which reopened in the 1990s after partial reconstruction. Emhoff later visited Berlin's memorial to the 6 million Jews killed in the Holocaust.
Emhoff's six-day tour of Poland and Germany is meant to further the Biden administration's work combating antisemitism and to deepen ties with US partners.
Last Friday, he visited the former site of the Auschwitz-Birkenau death camp. The visit took place on International Holocaust Remembrance Day, which is marked on January 27, the date on which the camp was liberated in 1945.
On Saturday, he toured the Oskar Schindler Enamel Factory in Krakow, where he saw an exhibit about "Schindler's List," the 1,000 Jews saved by the German industrialist during the Holocaust.
Emhoff described the visit to Auschwitz as an important part of his work combating antisemitism for the Biden administration.
"I feel a deep connection to all those who perished in Auschwitz," he said in opening remarks during a roundtable discussion in Krakow on antisemitism. "I know many American Jews feel the same way."
Emhoff is the first Jewish person among the top four officials — the president, vice president and their spouses — in the executive branch of government, and he has become increasingly outspoken about growing bias toward the Jewish community, and hate at large, in the US.
In December, Emhoff held a White House roundtable on antisemitism, during which he warned of a "rapid rise" in antisemitism across the United States and termed it an "epidemic of hate facing our country."