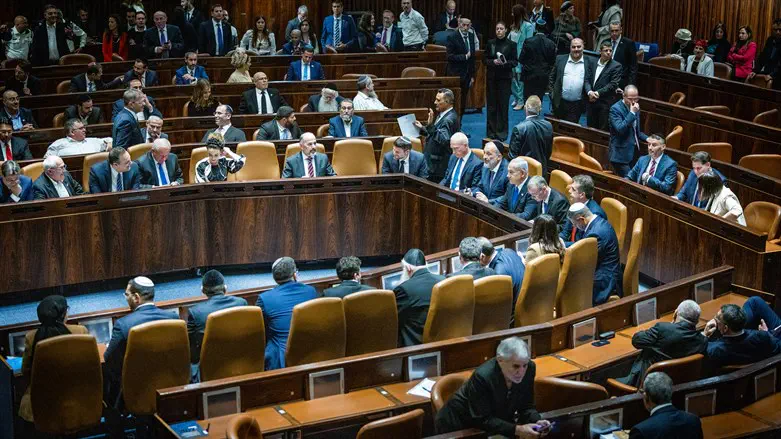 Knesset plenum
Yonatan Sindel/Flash90
The Knesset voted late Monday night to back legislation which would allow for the expanded use of deportation and loss of citizenship against convicted Arab terrorists.
The bill, endorsed by 106 MKs across the political spectrum, passed its first reading in the Knesset plenum after a joint session of the Knesset's Interior and House committees deliberated on the proposal.
Under the proposed law, the Interior Minister will have expanded powers to strip convicted terrorists of their Israeli citizenship or residency status, if they receive funding from the Palestinian Authority.
The PA has for years offered stipends to jailed Arab terrorists and the families of slain terrorists, in what Israel has dubbed the "pay-to-slay" policy.
During a hearing on the bill Monday, defense officials said that approximately 70% of jailed terrorists who receive pensions from the PA have either Israeli citizenship or residency, and could thus be eligible for deportation and loss of legal status in Israel under the new law.
If passed, the Interior Minister will be able to nullify the residency status of non-citizen terrorists within two weeks of their release from prison.
For terrorists who carry Israeli citizenship, the Justice Minister will also be required to back the nullification of citizenship, followed by a court review to uphold the move.
Terrorists who have lost their citizenship or residency status will be then expelled either to Judea and Samaria, or the Gaza Strip.