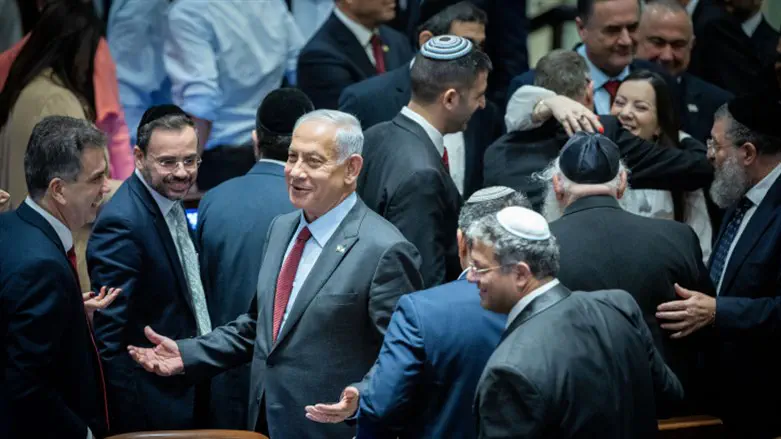 Benjamin Netanyahu with right-wing allies in the Knesset
Yonatan Sindel/Flash90
A bill which would make it easier for the state to nullify the citizenship of terrorists is set to be brought before the Knesset for a vote Monday, making it the first in a series of proposed laws the new government is drafting to be brought up for a vote.
The Knesset plenum is slated to vote on the first reading of the bill, following deliberations by a joint hearing of the Knesset's Interior and House committees.
Once a final draft has been agreed upon by the joint committee, the bill will proceed to the full Knesset Monday, where it is expected to pass by a wide margin.
Previous iterations of the proposal have received broad support, while the current bill has been endorsed by 106 MKs
If passed, the bill would grant the Interior Minister broad powers to nullify the citizenship or residency status of convicted terrorists.
Under the proposed bill, any terrorist who was convicted and jailed can be stripped of Israeli citizenship or residency and deported to the Palestinian Authority if the terrorist received any funds from the Palestinian Authority. The PA currently offers stipends to jailed terrorists and the families of slain terrorists.
The bill is just the first in a series of proposals pushed by members of the coalition government.
Following a spate of terror attacks Friday and Saturday – including a deadly synagogue shooting in Jerusalem – Finance Minister Bezalel Smotrich called for the government to ramp up the use of home demolitions and deportations of the families of terrorists, as a deterrent against future attacks.
National Security Minister Itamar Ben-Gvir has reportedly demanded a curfew for the Shuafat neighborhood in eastern Jerusalem, while Smotrich has proposed that movement out of Arab neighborhoods in the capital be limited.