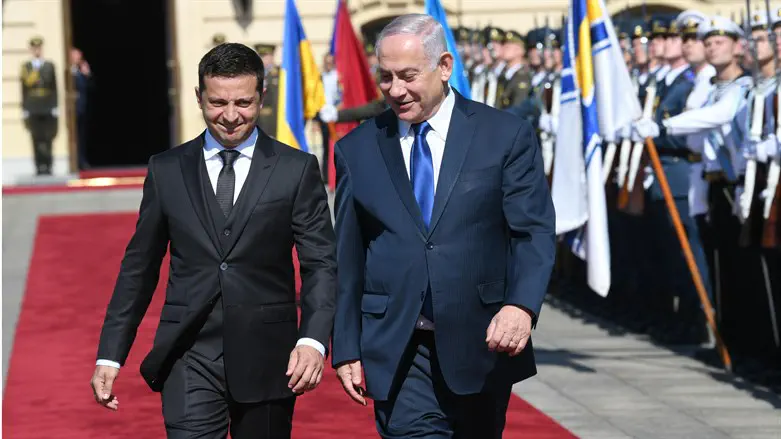 Zelenskyy and Netanyahu
Amos Ben Gershom/GPO
Ukrainian Presidential Advisor Mykhailo Podolyak told i24NEWS in a special interview on Thursday that Prime Minister Benjamin Netanyahu "can be an effective mediator" between the warring parties of Russia and Ukraine.
"I have no doubt that Netanyahu can be an effective mediator since he understands precisely what modern wars are and what is the essence of mediation under these conditions," Podolyak said.
He claimed, however, that "Russia does not want there to be a real negotiation," and that the invading country only wants Kyiv to surrender "under the name of 'negotiations.'"
"Russia only wants to negotiate the keep the status quo, and most recently, to agree on a ceasefire to upgrade its army, which turned out to not really know how to fight," Podolyak told i24NEWS, saying Netanyahu could be effective in mediating when the time is right for peace talks.
The interview came as Russian President Vladimir Putin ordered a one-day ceasefire "along the entire line of contact" in Ukraine to mark Orthodox Christmas, after calls from Turkey and Russia's spiritual leader Patriarch Kirill to do so.
Podolyak, however, called the proposal "a cynical trap and an element of propaganda."
"Negotiations will only be at the end of the war. But when will that be? There are very simple conditions – an immediate ceasefire" and "the withdrawal of Russian forces. We must get back our sovereignty and territorial integrity. After that, we will start the negotiations with the participation of mediators," he told i24NEWS.
Israel has delivered several tons of humanitarian assistance and defensive equipment to Ukraine during the war, but has stopped short of selling advanced weapons to Kyiv.
Ukrainian President Volodymyr Zelenskyy was critical of the previous government due to this refusal, having recently denounced the lack of aid from Israel during the war with Russia, saying his country got "nothing" from Israel.
Later, Zelenskyy claimed that Israel's refusal to provide military aid to Ukraine in response to Russia's invasion of his country caused the current military alliance between Russia and Iran.
He later reversed course and said he sees a "positive trend" in Kyiv's relations with Israel after the two countries shared intelligence about Russia's purported use of hundreds of Iranian drones in the war in Ukraine.
Zelenskyy recently urged Netanyahu to do everything in his power to save as many Ukrainians as possible.
In the interview with i24NEWS, Podolyak responded to comments by Foreign Minister Eli Cohen, who said during his swearing-in ceremony that the Jewish state's new government would "talk less" about the war but continue humanitarian aid. Senator Lindsey Graham (R-SC) later responded to Cohen and said that "the idea that Israel should speak less about Russia's criminal invasion of Ukraine is a bit unnerving."
Podolyak told i24NEWS, "We accept, with respect, the positions of different countries. We need to talk a lot about this kind of war, because it is a genocidal war."
"You can talk less, but the main thing is to take the right side, because there is a reason why Russia is a pariah state today. It was Russia that started the war on its own initiative and without provocation," he continued.
"Israel, which is constantly in a state of war from various entities, has the basic principles of protecting its territory, its right, and its freedom. Therefore, it would be desirable to focus on supplying aid to Ukraine," he added.