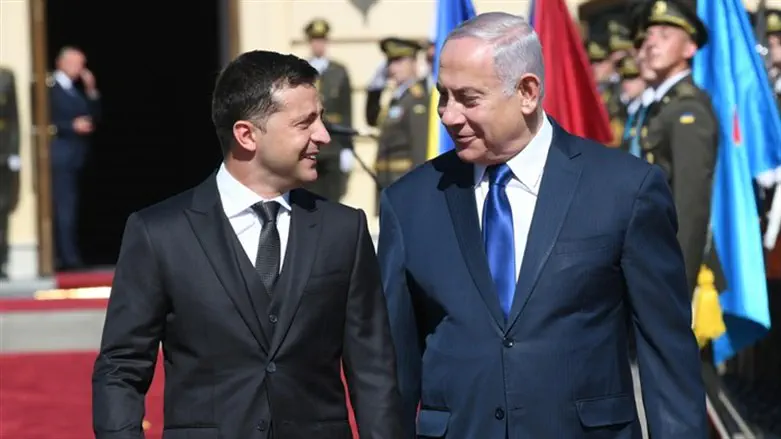 Netanyahu and Zelenskyy
Amos Ben Gershom/GPO
Prime Minister Benjamin Netanyahu will meet Ukrainian President Volodymyr Zelenskyy, for the first time since the Russian attack on his country, on the sidelines of the UN General Assembly, Kan 11 News reported on Tuesday.
The meeting between the two leaders follows disappointment in Kyiv over the scale of the Israeli aid to Ukraine in its war against Russia.
According to the report, the office of the President of Ukraine invited Netanyahu to a meeting in Kyiv, but Netanyahu chose to decline it.
Israel has delivered several tons of humanitarian assistance and defensive equipment to Ukraine during the war, but has stopped short of selling advanced weapons to Kyiv, fearing such a move could create tension with Russia and harm Israeli security interests in Syria.
Zelenskyy was critical of the previous government and denounced the lack of aid from Israel during the war with Russia, saying his country got "nothing" from Israel.
In February, the Ukrainian President expressed hope that Israel would choose Ukraine's side in his country's war against Russia.
Last week, Netanyahu spoke with Zelenskyy about the continuation of Israeli aid to Ukraine, including to Ukrainian refugees staying in Israel, and also about the continuation of aid in the development and promotion of civil defense systems.
The Prime Minister also raised the need to ensure as much as possible the arrival of worshipers to Uman this year in order to ensure freedom of worship.