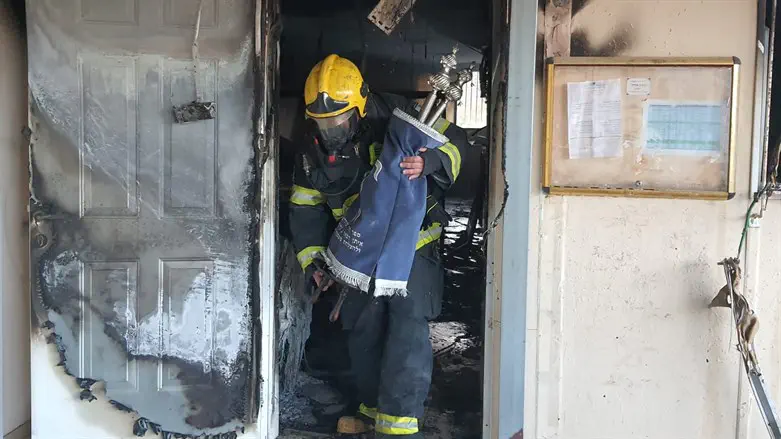 A firefighter takes one of the Torah scrolls out of the burning synagogue
Judea and Samaria Fire and Rescue Services spokesperson
Firefighters from the Binyamin station were called this morning to put out a fire that broke out in a synagogue in Givat Zeev.
The fire damaged a significant portion of the synagogue and firefighters acted in an attempt to take control of it as well as to save the holy items and Torah scrolls inside.
Very heavy damage was done to the synagogue building. After the fire was extinguished. a fire investigator was called to the scene to attempt to determine the cause of the fire.
Sergeant Major Oren Bitton, commander of the first team that arrived at the scene, said, "Upon arrival, we recognized a lot of smoke coming out of the synagogue building. We immediately started firefighting and search operations to look for trapped people and at the same time heat and smoke release operations. Our goal was to stop the spread of the fire in the synagogue building before the fire spread to the ark. As soon as we took control of the fire, we pulled the Torah scrolls out of the synagogue."