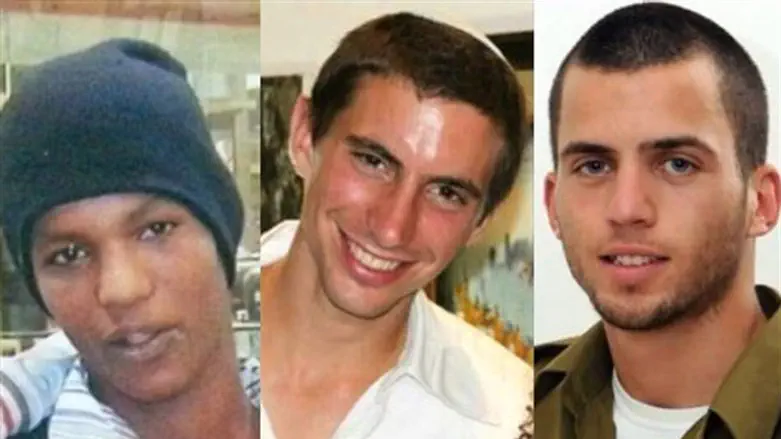 Avera Mengistu, Hadar Goldin, and Oron Shaul
picture used with permission of families
Two weeks after the end of Operation Guardian of the Walls, senior Israeli officials estimate that it will be soon be possible to reach an agreement on the issue of prisoners and missing persons within the next few weeks or months.
The Israel Hayom newspaper reported that the cautious optimism in Israel comes after the change in Israeli policy at the end of Operation Guardian of the Walls, as part of which it continued the negotiation process in resolving the issue of prisoners and missing persons, and even pursued only "basic" humanitarian policy until the hostages were returned home.
As part of the basic humanitarian policy, Israel allows only medical equipment, food, medicine and fuel to be brought into the Gaza Strip through the Kerem Shalom and Erez crossings, and only patients in need of life-saving treatments can be brought to Israel from Gaza.
All additional equipment is not allowed, and at this stage Israel is also increasingly preventing the export of goods from the Gaza Strip. The issue of exports is very troubling to the residents of the Gaza Strip, as well as quite a few Israeli companies, including fashion chains, which are eagerly awaiting goods from Gaza.
Israel allows itself to do so in light of the fact that experts coordinating government operations in the territories unequivocally state that there is no humanitarian crisis in the Gaza Strip after Operation Guardian of the Walls, although it is widely acknowledged that the humanitarian situation in Gaza was not good even before the most recent conflict.
During the operation, the IDF focused on targeted attacks on the military assets of terrorist organizations in the Gaza Strip, and the extent of the damaged civilian infrastructure is near-zero.
The defense establishment estimates that apart from the damage to the military infrastructure, the most troubling issue for Hamas leaders now is the fact that the negotiation process between Israel and Hamas has stalled.
Israel seeks the return of civilians Avera Mengistu and Hisham al-Sayed, as well as the bodies of IDF soldiers Hadar Goldin and Oron Shaul, who were killed during humanitarian cease-fires during Operation Protective Edge in 2014.