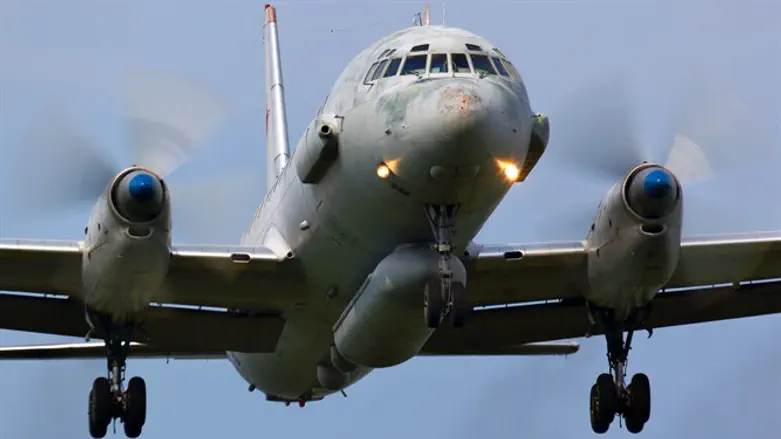 Ilyushin IL-20 (stock image)
Istock
A delegation of senior Israeli security officials is scheduled to fly to Russia early Thursday morning, in an attempt to resolve an ongoing dispute with the Kremlin regarding the downing of a Russian reconnaissance plane over Syria earlier this week.
Early Tuesday morning, an Ilyushin IL-20 turboprop reconnaissance was shot down, following an Israeli Air Force strike on a weapons development center in northern Syria.
Russian defense officials accused the IAF of downing the IL-20, claiming Israeli fighter jets had used the Russian plane to shield their radar signatures – a claim Israel denied, noting that IAF aircraft were not present in the area when the IL-20 was hit by a missile, and that the IL-20 itself had been outside of the combat zone during the strike.
According to an Israeli inquiry into the incident, the IL-20 was downed by one of the many surface-to-air missiles fired by the Syrian air defense network following the IAF strikes.
On Thursday, senior IDF officials, led by the Commander of the IAF, Maj. Gen. Amikam Norkin, will fly to Moscow in a bid to convince Russian security officials that Syrian surface-to-air missiles fired after the IAF jets had left the combat zone were responsible for the downing of the IL-20.
IAF commander and other IDF officials are expected to present the full IDF file on the incident, including the pre-mission information and the findings of the IDF inquiry regarding the event.
In addition, an IDF spokesperson said Wednesday night, the delegation will present evidence linking Iran to ongoing attempts to transfer strategic weapons to the Hezbollah terror organization and to establish an Iranian military presence in Syria.
Along with the IAF commander, the delegation will include the chief of the International Cooperation Unit, Brig. Gen. Erez Maisel, as well as additional officers of the Intelligence Directorate, the IAF and the Operations Directorate.
Russian President Vladimir Putin said Tuesday that he backed the Russian Defense Ministry statement accusing Israel of downing the reconnaissance plane, but added that the incident appeared to be an accident.
Putin later spoke with Israeli premier Binyamin Netanyahu, who expressed "regret" over the downing of the IL-20 and the loss of all 15 crew members.
According to a statement by the Kremlin following the call, despite Israel's denials, Putin called on Netanyahu to prevent similar incidents from occurring in the future.