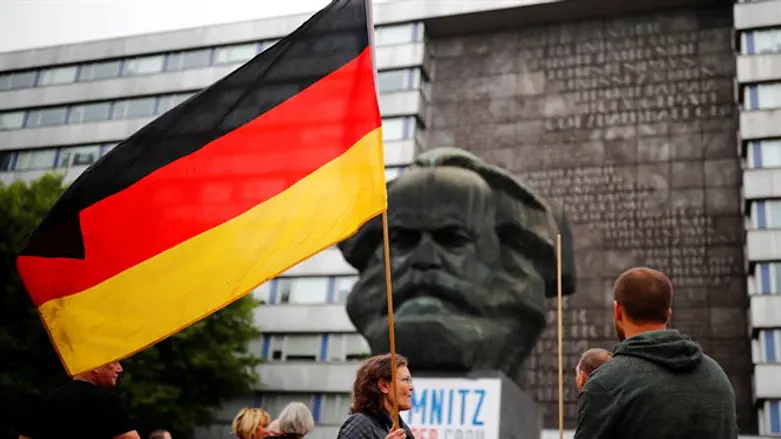 Pro Chemnitz group demonstrates in Chemnitz, after killing of man
Reuters
The head of Germany's Central Council of Jews, Josef Schuster, said on Sunday that an attack on a kosher restaurant in Chemnitz by masked neo-Nazis shows there's a deep problem with right-wing extremism in the region and should be treated as a call to action, reports The Associated Press.
Schuster, who had previously condemned the violent far-right protests on August 26 and 27 before the attack on the Jewish restaurant was even known, said "we need to call the problem by its name."
"The racist riots and the attack on the kosher restaurant in Chemnitz show how strongly rooted right-wing extremism is in the region," he added.
Hundreds of protesters took to the streets after a German man was stabbed and killed on August 26 after authorities say a verbal argument with migrant men escalated. That day several foreigners were injured after authorities said they were attacked in the streets.
The next night, around 6,000 far-right protesters including neo-Nazis, members of the anti-migrant Alternative for Germany party and others clashed with counter-demonstrators. On the sidelines, masked protesters attacked the Shalom restaurant with rocks and bottles, injuring the owner while shouting "Jewish pig, get out of Germany."
The protests have exposed a rift between German Chancellor Angela Merkel and top security officials. Her domestic spy chief last week openly questioned her spokesman's statement that foreigners were "hunted" in the streets by the angry mob, saying he'd seen no credible evidence of it, and Interior Minister Horst Seehofer on Thursday expressed sympathy for the protesters.
Schuster slammed the officials, without identifying anyone by name, saying that efforts to "obviously minimize the incidents make me seriously doubt the work of these authorities."
"Attempts at appeasement and a lack of distancing from the right-populists play exactly into the hands of these forces," he said, according to AP.
Saxony state Interior Minister Roland Woeller met Saturday with the owner of the Jewish restaurant, and assured him police were working intensively to "solve this abhorrent crime," the dpa news agency reported.
Germany has seen an increased number of attacks on Jews during the first half of 2018, according to a report last month.
There were 401 officially reported attacks on Jews in Germany from January through June, according to government data, an increase of 10% over the same period last year.
Earlier this year, the German Bundestag approved legislation to establish a new commissioner to handle the issue of rising anti-Semitism in the country.
(Arutz Sheva's North American desk is keeping you updated until the start of Rosh Hashanah in New York. The time posted automatically on all Arutz Sheva articles, however, is Israeli time.)