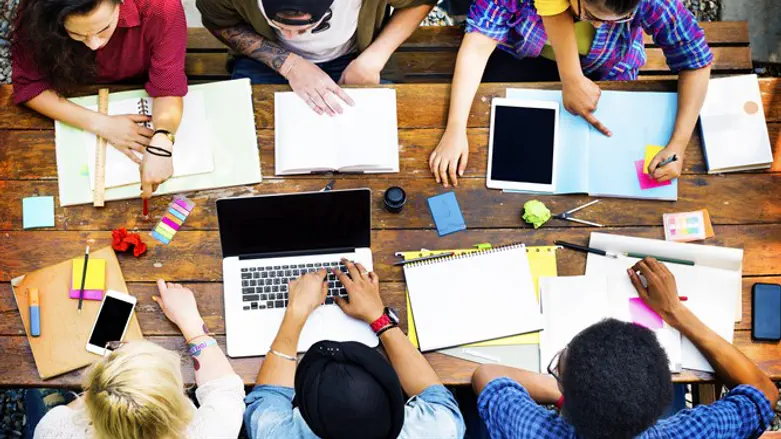 Students
iStock
The National Union of Israeli Students on Monday morning published a report showing that 59% of students are considering leaving Israel.
According to the survey, which was conducted by the Panels polling institute, today's college and university students are disturbed by social and political issues in Israel, and are increasingly aware of the situation. Political and ethical issues are finding expression within institutions of higher education, where students strive to be more active in these issues but are limited due to time constraints.
The highest number of students - 30% - believe that the cost of living is Israel's greatest social challenge, followed by students concerned about Israel's democracy and those worried about its security-diplomatic situation.
Sixty-three percent of Israeli students said their institution does not encourage or support political activities at all, and that their professors did not initiate discussions regarding politics, even if they allowed discussions to take place.
When asked whether institutions of higher education should involve themselves in politics, one-third of students (33%) said they do not believe academic institutions should involve themselves in politics. Just under a third (31%) of respondents said they believe academic institutions have a moral obligation to encourage politic discourse and activities, as long as the discourse remains respectful and balanced. An additional 28% of respondents said academic institutions should allow political activities, but should not initiate them.
Approximately 40% of students said their lifestyle dos not allow them time to participate in political activities, while an additional 30% said they're uninterested in such activities and 18% said they don't believe their actions will have any real effect.
However, 80% of respondents said they had signed online petitions, and 60% had shared materials via social media. In addition, 38% of respondents said they had attended demonstrations, 32% boycotted certain professors, 29% contacted politicians, and 26% were registered with a political party.
In addition, 82% of respondents said they would participate in Israel's next elections, with 13% saying they would decide whether to vote after seeing the final lists of candidates, and 5% saying they would not vote at all.
And while 59% of students would be willing to emigrate from Israel under certain circumstances, just 40% said they would never consider leaving Israel.
Most of those who would consider emigrating (66%) said they would do so for career advancement, a lower cost of living, and other financial concerns. Of those 66%, the majority (35.5%) gave career advancement as their main concern, followed by 31% who cited the cost of living.
MK Aliza Lavie (Yesh Atid) said, "The depression this survey shows disturbs me a lot, and requires cooperation - from us as public officials, from the student leadership, and from academic leaders. Israeli students are one of our most precious national resources. They are the future of our employment and economy, the next generation of leaders, and our future as a society. We must ensure that higher education is available for every group in society, and that students have the tools and conditions necessary to succeed and realize their potential. We must be involved and work together to create a future for them in Israel, and nowhere else."
National Union of Israeli Students Chairman Ram Shefa said, "The results of this survey should be a warning sign to decision makers and those in charge of the academic system. Young people who are trying to survive financially will neglect society. If there is no intervention, we will wake up to an alienated society....it is not impossible that we will end up with a lack of empathy and societal estrangement."