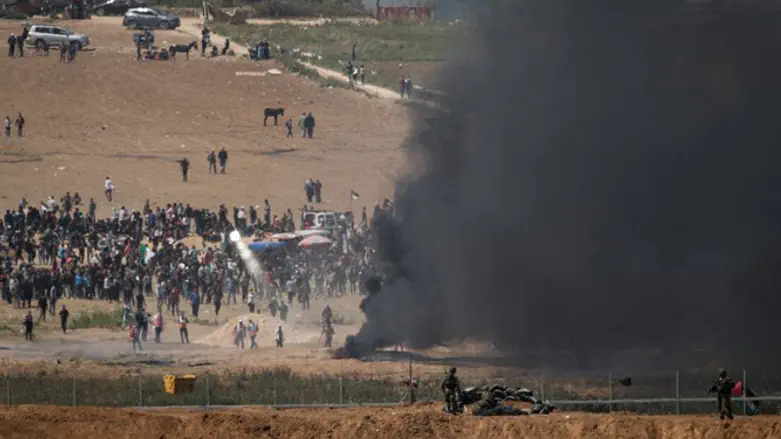 Gaza rioters
Flash 90
Israel condemned PA efforts to have Israeli political and military officials prosecuted in the International Criminal Court in The Hague for "war crimes" against rioters on the Gaza border.
The Foreign Ministry said that the PA appeal to The Hague was "a cynical move that is not legally valid. The PA continues to abuse the tribunal for political purposes rather than to promote political negotiations."

"It is ridiculous that the Palestinians do this while they continue to incite to terror and use children and women as human shields to cover their violent attempts to harm the security of Israeli citizens."

Jerusalem adds that the PA appeal to The Hague is not legally valid, and that the court has no jurisdiction over the Israeli-Palestinian Arab issue - since Israel is not a member state of the court and the Palestinian Authority is not a state.
"Israel expects the court and the prosecutor not to surrender to Palestinian pressure and not to allow the Palestinians to bring about further politicization of the tribunal or to divert it from its original mandate. Israel operates in accordance with independent and thorough judicial oversight and review mechanisms, as appropriate for a democratic state and in accordance with international law," the Foreign Ministry said.