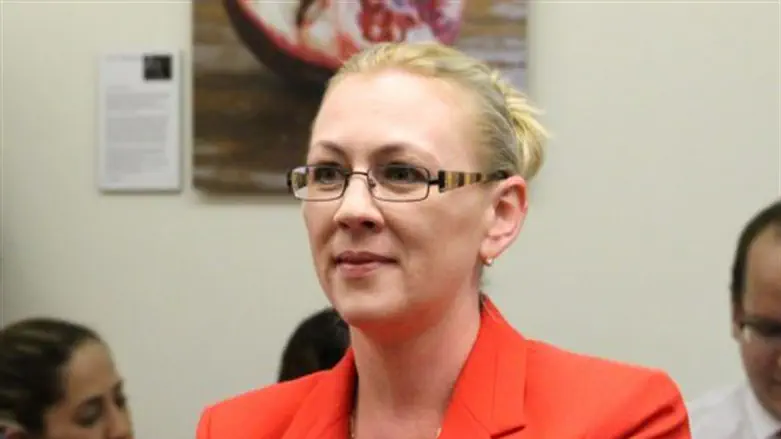 Yulia Malinovsky
Yisrael Beytenu
MK Yulia Malinovsky (Yisrael Beytenu) is working to advance a bill which would amend the law regulating punishments for those who destroy or blacken pictures of women in public places.
The new law will mandate a one-year jail term for those found guilty of such an act, and will apply to those who deface bills with women's pictures on them.
Israel recently printed new bills, and haredim began coloring over the pictures of women appearing on them.
Speaking to Arutz Sheva, Malinovsky said, "I don't want to live in a country which excludes women or destroys pictures of women. This befits Iran, not Israel, and we are therefor working to make the punishment more severe."
"In Beit Shemesh, for example, we've seen people destroying the pictures of women on bills, and it's obvious that the reason for their actions is gender-related. Along the Jerusalem-Tel Aviv highway, pictures of women featured on billboards are also harmed.
"Justice Minister Ayelet Shaked (Jewish Home) told me that in the 2015 elections, people blackened pictures of her on billboards. That already harms democracy. I know that some of the haredi Knesset members agree with me, but for obvious reasons, they did not sign the bill. I don't want to put people in jail, but this needs to be a prominent issue, so that there will be more deterrence."
In the haredi world, the idea of "boycotting" someone or something is strong. Were haredi MKs to sign Malinovsky's bill, there is a high chance public would insist those MKs step down, and would not vote for them in the 2019 elections
Malinovsky knows her picture will never appear in haredi newspapers.
"I have disagreements with them, because they write articles about me, but they'll never include my picture. If they do, it will be a scenic picture which does not include my face. But they decide not to use my picture, and that's their decision. The moment they destroy pictures of women in public spaces, they cross the line. This is what I am fighting."