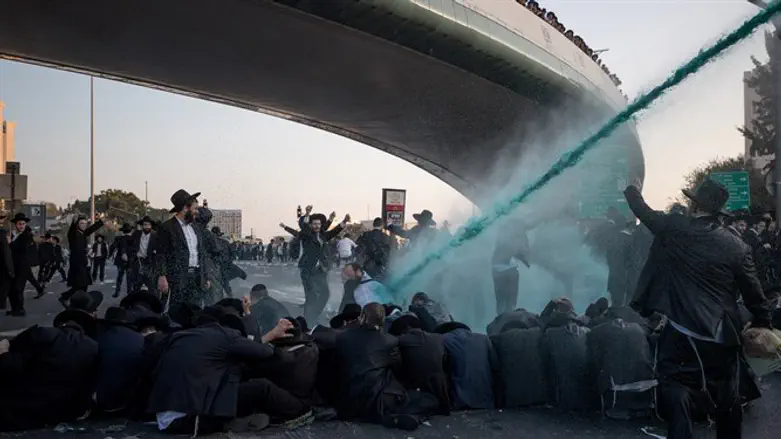 Police using Skunk spray on Jerusalem Faction members
Flash 90
Wealthy haredi American Jews have set up a fund to compensate members of the radical Yerushalmi Faction (Jerusalem Faction) who had been hit by the police 'Skunk' riot dispersal stink bomb.
Hundreds of members of the radical Jerusalem Faction blocked roads in Jerusalem earlier this month as part of their ongoing protest against the continuing detention of draft dodgers from the haredi community. Every Israeli citizen must register with the draft office before the age of eighteen, but anyone with a letter attesting to the fact that he is studying Torah at a yeshiva is given a deferment for as long as he desires. The Yerushalmi Faction members refuse to register.
Police dispersed the extremists with the assistance of the 'Skunk', a stink bomb that smells of sewers and is used for crowd control. As a result, many Jerusalem Faction members had their clothes ruined by the smell and were forced to discard them.
Now activists from the anti-Zionist Satmar community the United States have begun collecting donations for those have had their personal property damaged in the demonstrations. "We need to help those that sustained damages caused by the police, and buy them hats, suits, trousers, eyeglasses, and more," read a poster in the Satmar Kiryas Yoel community in New York.
Jerusalem Faction members are able to apply for compensation by filling out a form, along with a phone number for verification purposes. "My hat was destroyed and it is only a year old," wrote a haredi man named Solomon. Another requested compensation for his long frock coat, which he wrote "belonged to the yeshiva and not to me".
The Skunk is a crowd control weapon that was first introduced by the IDF in 2008 and is considered an improvement over other crowd control weapons such as tear gas, spray paint and rubber bullets. While non-toxic, the strong smell lingers for days and is difficult to wash off in the shower.
A Reuters reporter once described it as "Imagine taking a chunk of rotting corpse from a stagnant sewer, placing it in a blender and spraying the filthy liquid in your face. Your gag reflex goes off the charts and you can't escape, because the nauseating stench persists for days."
Led by Rabbi Shmuel Auerbach, the Yerushalmi Faction has opposed any cooperation with IDF draft officials, even for the purposes of attaining the draft deferrals given to tull time yeshiva students.
As a result, Yerushalmi Faction members often get arrested for draft dodging, met with large noisy protests by the radical haredi group. In recent months, the Yerushalmi Faction has organized dozens of protests across the country, with the largest held near haredi population centers including Jerusalem, Bnei Brak, and Shilat Junction, near the haredi city of Modi'in Illit.