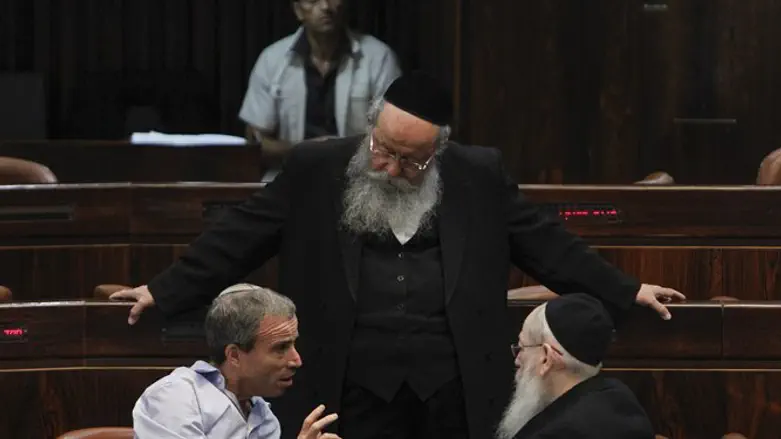 MK Menachem Eliezer Mozes listens to MK Elazar Stern
Miriam Alster/FLASH 90
MK Elazar Stern (Yesh Atid) recently sent a letter to the Chairman of the Constitution Committee, MK Nissan Slomiansky (Jewish Home), asking him to apply the "continuity law" to his proposed "conversion law", which was approved in first reading in the previous term, but the passage of which into law was not completed.
The bill, initiated by MK Stern, sought to allow city rabbis to open conversion courts, and to require the Chief Rabbinate of Israel to authorize city-appointed rabbis to register marriages.
In his letter, Stern argued that the legislation was not completed following a commitment given to him by Jewish House Chairman Naftali Bennett, which was immediately violated at the beginning of this term.
"This bill was replaced by my agreement to a proposal that was approved by the previous government, when I relied on the commitment of Minister Naftali Bennett, chairman of the Jewish home.When I brought up to Minister Bennett the suspicion that that after the Knesset elections (in the current term) the government's decision would be canceled by the new coalition, he looked me in the eye and said, "Do you think I'll give up on the conversion law?" Within days it took him five minutes to give up on the conversion law in its form then as a government decision," Stern wrote to Slomiansky.
"Knesset Speaker Yuli (Yoel) Edelstein (Likud), who was interviewed by Moscow this week, expressed his opinion on the need to allow city and village rabbis to establish conversion courts, and I am certain he will support the bill, which shares the same goal as his words," Stern added.
At the end of his letter, Stern noted, "As if this were not enough, this week a serious crisis has been created between the State of Israel and Diaspora Jews following the cancellation of the Western Wall outline and the new state conversion law. This bill seeks to repair this.Therefore, I would like to restore the situation to its previous status and to apply continuity to the bill."