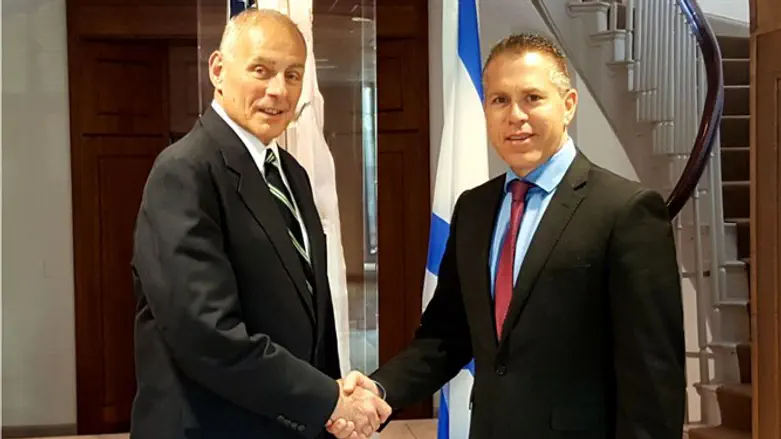 Gilad Erdan and John Kelly
Public Security Ministry spokesperson
Israeli Public Security Minister Gilad Erdan (Likud) met with US Homeland Security Secretary General John Kelly.
The two discussed their common battle against terror and incitement, as well as the possibility of creating a global coalition to battle terror. The discussion ended with an agreement that the Department of Homeland Security and Israel's Public Security Ministry would cooperate on operational and technological issues, including the threat of multicopter drones, for the sake of strengthening both countries' immunity and security.
After the meeting, Erdan briefed the Senate Homeland Security Committee and spoke to committee chair Ron Johnson and lead Democrat Claire McCaskill.
Gilad Erdan at the Department of Homeland Security's meeting / Credit: Public Security Ministry spokesperson
Speaking to the Senate Homeland Security Committee, Erdan detailed the process which led to the past two years' "lone wolf" terror attacks, as well as his plan to create a new international coalition to combat terror and incitement on social media and in general.
The senators expressed admiration and a desire to learn from Israel how to fight terror.
"Our excellent security cooperation with the US continues to improve as identical terror attacks begin to occur all over the world," Erdan said.
"We are creating one united front of democratic countries with shared values. We are all fighting radical Islamist terrorism and the countries which encourage it."