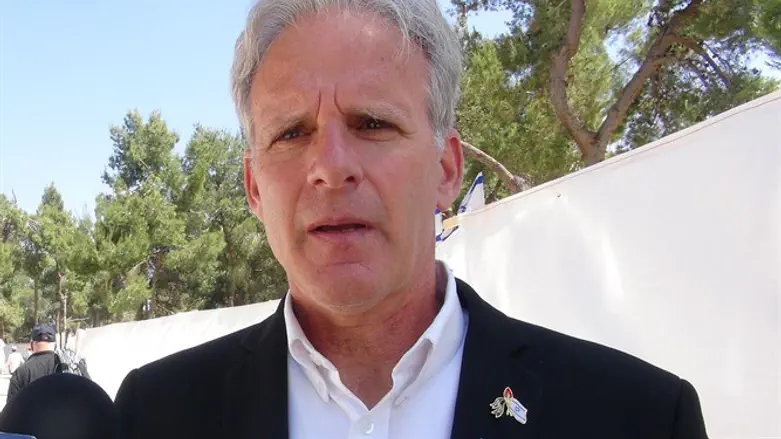 Michael Oren
Arutz Sheva/Eliran Baruch
Kulanu MKs Michael Oren and Rachel Azaria attacked the proposed "Kotel Law" which was submitted by the Shas party Sunday.
The law would regulate the status of the Kotel (Western Wall), making it a "holy area," subject to the jurisdiction of the Rabbinical Courts and the Chief Rabbinate.
"The bill which the leader of Shas submitted regarding the Western Wall would cause devastating damage to the relations between the State of Israel and Jewish communities abroad." they said. "Just this week the State of Israel received a new fleet of aircraft from the US, thanks in part to the assistance of the Jewish community there. [Now] Knesset members have decided to tear the State of Israel even farther from them."
"The State of Israel is the home of the Jewish people everywhere, and it defines itself as the nation-state of the Jewish people regardless of the manner in which a Jews expresses his Jewishness." they added. "We must meet the standards we have set for ourselves. Jews abroad are faced with daily anti-Semitic and racist abuse because they are Jewish and because of threats to boycott Israel (though the BDS movement). The State of Israel should be there to support them and not turn its back on them."
"MKs cannot sacrifice the the relationship between Israel and world Jewry in exchange for whims which stem from a desire to control the Western Wall plaza and not allow any Jew to pray according to his custom." they said.
MKs Oren and Azaria called on Prime Minister Binyamin Netanyahu to implement the plan to create the egalitarian prayer area next to the Western Wall which was approved by the Cabinet in January.