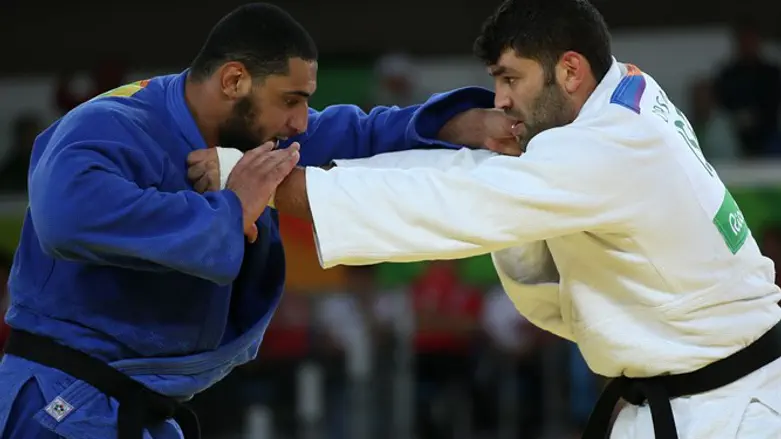 Islam el-Shahabi and Or Sasson at the 2016 Rio Olympics
Reuters
The International Olympic Committee (IOC) said Friday it would probe the incident at the Rio Olympics in which Egyptian judoka Islam el-Shahabi refused to shake the hand of his Israeli rival, Or Sasson, after Sasson defeated him.
Speaking to The Associated Press, IOC spokesman Mark Adams said he hadn't heard all the details of the incident, but added that the Committee would look into it.
"Things happen in the heat of the moment that are not acceptable," Adams said. "We believe the Olympic movement should be about building bridges, not erecting walls. There's absolutely no excuse for it."
He acknowledged that sometimes athletes can't bring themselves to shake hands with their competitors.
"It's a shame if that happens," Adams said, according to AP.
In Friday's incident, el-Shahabi was booed by the crowd after refusing to shake Sasson's hand as is customary after a match.
Egypt's Olympic Committee later distanced itself from el-Shahabi's actions, saying the decision to refuse the handshake was his own.
"El-Shahabi was alerted before the match to abide by all the rules and to have sporting spirit during his match with the Israeli player," it said, adding, "What the player did after the match, and not shaking hands with his rival, is a personal action."
Sasson, for his part, later won Israel's second bronze medal in the Rio Olympics when he defeated Cuban Alex Garcia Mendoza in a consolation round in the men's 100 kilogram plus weight class.
(Arutz Sheva's North American desk is keeping you updated until the start of Shabbat in New York. The time posted automatically on all Arutz Sheva articles, however, is Israeli time.)