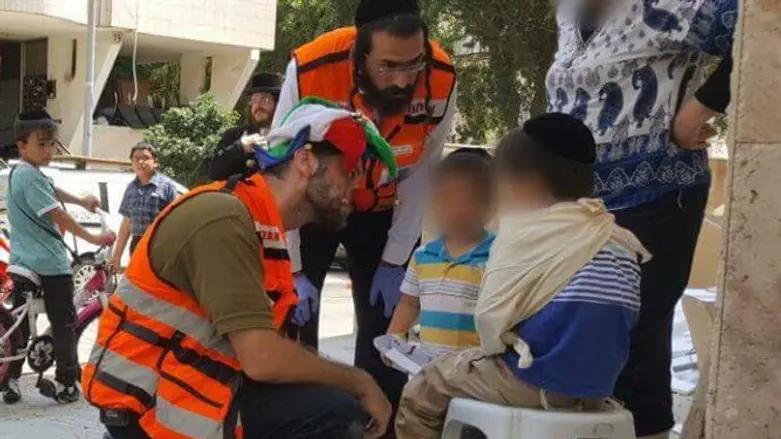 Hatzalah medics save boy in Bnei Brak
United Hatzalah
In the middle of a busy Thursday afternoon on Kushnir Street. in Bnei Brak,a young boy, age five, was hit by a passing car. The child was injured and in need of medical attention, but was also hysterical and he refused to be treated by the United Hatzalah emergency medical technicians that arrived on the scene.
In spite of repeated attempts, the EMTs were unable to calm the child and approach him to begin providing the first aid treatment necessary to dress the child's wounds, until Daniel Klughaupt arrived on the scene. Klughaupt has been an EMT with the organization since earlier this year and also volunteers as a professional medical clown.
Seeing that the child was under a large amount of stress, Klughaupt quickly went back to his ambucycle and retrieved his medical clown outfit, which included a clown hat, red nose and balloons. Dressed as a clown, he approached the child. Klughaupt sat down next to the child in full clown regalia and began attempting to make the child laugh.
"It was a challenge to draw the child's attention away from his wounds while he was under that much stress," said Klughaupt, who hailed from Springfield, Massachusetts before he immigrated to Israel. Nevertheless, Klughaupt prevailed. He got the child to laugh and drew his attention away from the wounds while another United Hatzalah medic began treating the child. Klughaupt was so successful that the child barely noticed the treatment.
"At some point the child finally noticed that he had been bandaged. Once he saw the bandage he began to cry. So, myself and the other medic began to decorate the bandage for him, which proceeded to calm him down. Once his father arrived at the scene, the child was taken by ambulance to the hospital for further treatment and observation," added Klughaupt.
Working as a medical clown has been one of Klughaupt's dreams for a while. "I like helping people," he said, "and I like making them laugh, so why not mix the two together?" Klughaupt certainly did that today, and was able to calm down an injured child who would have otherwise delayed treatment, thereby unwittingly causing more harm to himself.