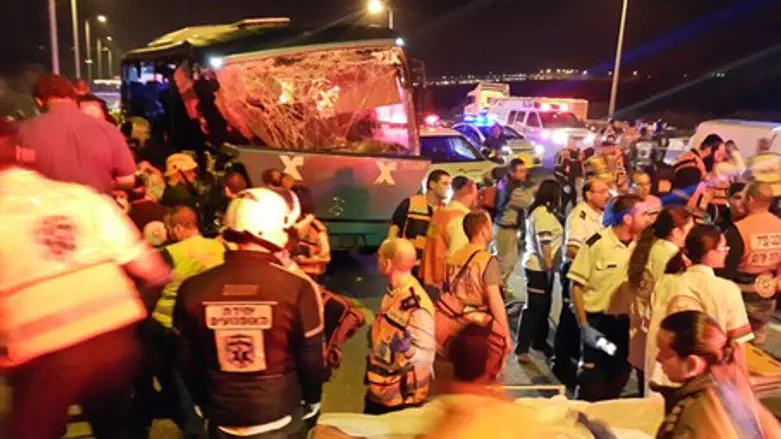 Deadly Bus crash on route 1
Uri Davis /United Hatzalah
Following the deadly bus crash which occurred on Sunday night that killed six people, the Director of the Transportation Ministry, Uzi Yitzhaki, told Army Radio of a new initiative which the Ministry has undertaken to install a warning system in every intercity bus that will sound when a bus driver veers from their lane. 
The Ministry will now be mandating that every intercity bus have the safety system installed, in an effort to limit the number of accidents that occur. The regulation was signed by the Transportation Minister Yisrael Katz, last week. The systems will be fully installed and operational as of November in the coming year.
"The issue that we are trying to deal with is the human error factor," explained Yitzhaki. "Human error accounts for most of the accidents that occur and we are trying to limit that as much as possible.   
Police have opened an investigation into the circumstances of Sunday night's crash between an Egged bus route 402, and a truck that was standing on the side of the highway.
The driver of the truck, a resident of eastern Jerusalem has been taken in for questioning, while the bus driver, who has been involved in a similar accident in the past has been arrested on suspicion of negligent manslaughter.