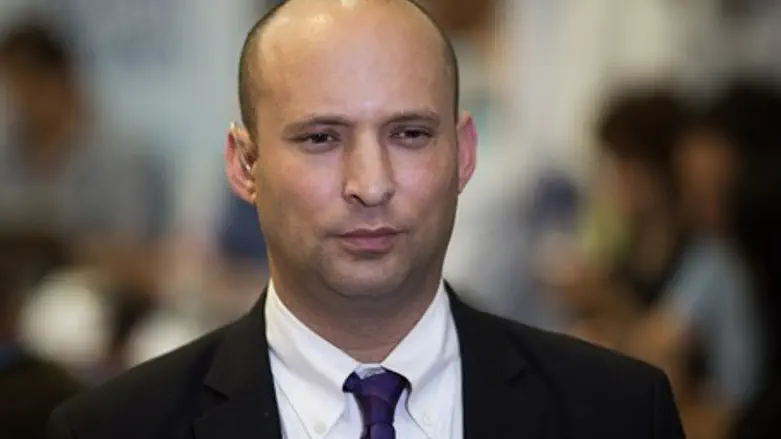 Naftali Bennett
Yonatan Sindel/Flash 90
The youth movement of the Im Tirtzu organization has put together a petition calling on Education Minister Naftali Bennett to act to dismiss a high school teacher from Haifa who allegedly referred to IDF soldiers as "murderers".
"We, high school students from across the country and from all sectors of society, call on the Minister of Education to dismiss the teacher from Ironi Alef Haifa, who called IDF soldiers 'murderers'," says the petition which, as of Saturday night, had been signed by hundreds of students.
"It is inconceivable that time and time again, teachers in the educational system incite against IDF soldiers, who work day and night to protect the citizens of Israel. Minister of Education, Naftali Bennett, eradicate the phenomenon and dismiss the teacher," the petition calls on Bennett.
Roi Strasberg, head of Im Tirtzu's youth movement, commented to the petition on Saturday night, telling Arutz Sheva, "We are high school students who are about to be drafted into the IDF and will not allow such incitement in schools. There is no problem with teachers discussing topical issues, but inciting against the IDF is crossing a red line."
The story about the teacher was first made public on Friday, when a female student at the high school posted a letter on her Facebook page, published by the Hebrew site 0404 News, in which she described the incident.
"This is how a class today at municipal school A. (name abbreviated - ed.) in Haifa looks: a teacher tells her 11th grade students that 'our soldiers are murderers' - in those exact words, without trying to sweeten it up at all as they usually do," reported the student.
"Unfortunately, I couldn't keep quiet and I had to answer and stand against the teacher and demand she take it back. And in response? I was removed from the classroom and sent home from school. At an educational institution that teaches us - or at least is supposed to teach - about equality and differences of opinion, they teach me that IDF soldiers are 'murderers' and prevent me from even responding."
"I ask you, how? How in the state of Israel in 2015 can a teacher enter a classroom and call IDF soldiers 'murderers'? How can a teacher in Israel stand in front of a full class and say things like this about our soldiers, about our army, that we are supposed to be drafted to in less than two years?"
"So here, in the state of Israel of 2015 words like 'IDF soldiers are murderers' have become a completely legitimate opinion, and no, you are forbidden from getting angry about that."
Senior sources of the Education Ministry in the Haifa district and in the education department of Haifa Municipality later told the Israel Hayom that while the complaints against the teacher are still being checked, the incident would seem to be a serious case - both because of the statement and the punishment against the student.
The incident brings to mind the case of Adam Verete, a teacher at a high school outside Haifa who last year raised a storm and was eventually fired after telling his students the IDF is "immoral," and claiming "Israel belongs to the Arabs, and the Jews have no business here."