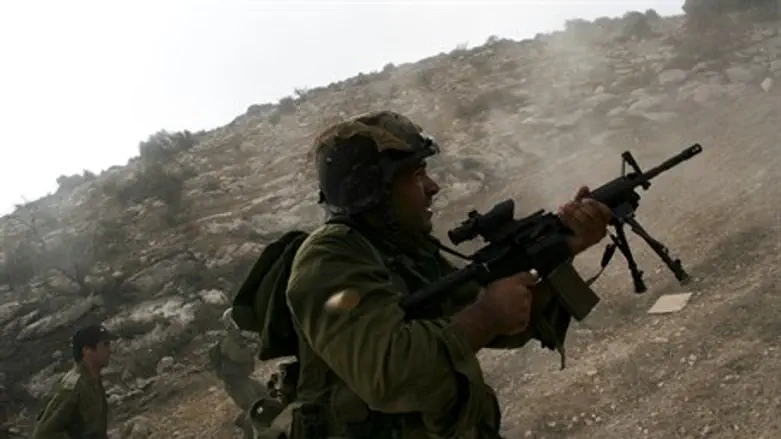 IDF soldier shooting (illustration)
Matanya Tausig/Flash 90
Arab terrorists hurled firebombs at an Israeli car in Samaria late Thursday night - but unlike in similar attacks just hours earlier the IDF was ready and waiting, shooting one terrorist and arresting another.
Troops from the Givati Brigade's Rotem Battalion had laid an ambush at the road connecting the towns of Itamar and Elon Moreh in anticipation of an attack on Israeli vehicles.
They opened fire just after the terrorists launched their potentially life threatening Molotov cocktail assault, which brings to mind a similar firebomb attack on a car last December that left an 11-year-old girl with severe burns.
"A hit was identified on one of the terrorists, and another terrorist was arrested after a pursuit," said the IDF in a statement. Reportedly the wounded terrorist was transferred to a hospital in Ramallah by the Red Crescent in critical condition.
"The IDF will continue to act to thwart terror in the Judea and Samaria region and to defend residents of the state."
The commander of the force, Lt. Col. Liron Batito, said, "the fighters of the battalion were stationed in an ambush knowing the mission clearly: to prevent an attack on Israeli citizens."
"The professionalism of the fighters and their striving for contact (with the terrorists) led to operational success worthy of praise," he added. "We will continue to do all that is needed with firmness and perseverance, so as to prevent terror and defend the citizens of the state of Israel."
The firebomb attack is one of many that have taken place this week, amid a slew of terrorism focused in Jerusalem that included a lethal rock attack on an Israeli motorist this Sunday.
Just several hours before the IDF ambush on Thursday, Arab terrorists hurled a firebomb at the IDF Ofrit Base in Jerusalem's Mount Scopus, setting off a fire in a forested area by the base.
Later on Thursday night an Egged bus came under Arab rock attack, causing the driver to flee. It was then burned and destroyed by a firebomb in Jerusalem's Ras al-Amud.