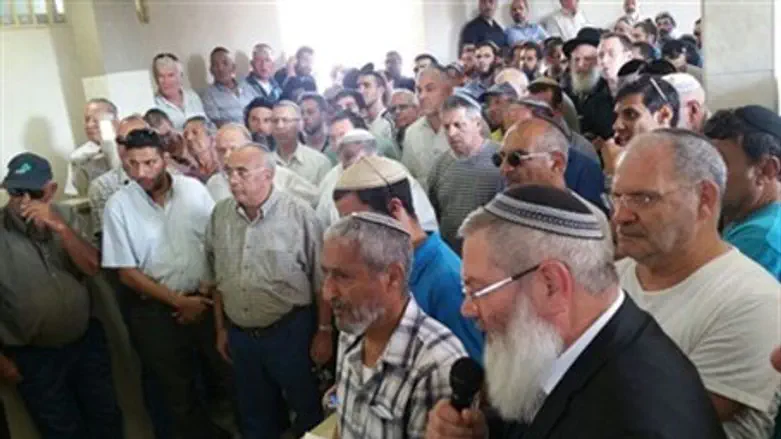 David Bar Kapara Funeral
Hezki Ezra
The family of David Bar Kapara - the 70-year-old Israeli farmer beaten to death last month - expressed outrage at police's claim the murder was committed for criminal reasons, and not nationalistic ones. 
The murderers, two Arab men from the village of Kfar Lakia in Samaria, had previous records of terrorist violence, it was revealed on Thursday. 
However, according to the Israel Security Agency (ISA or Shin Bet), interrogations of the pair revealed their motives were criminal - despite their record of terrorist crimes. 
"The Shin Bet itself admitted in its official announcement that these are two terror operatives from the Ramallah area, and that is why the police's claim [to the contrary] is incomprehensible to us," the family said in a statement. 
"The ease with which they call this a robbery gone wrong - especially as based on the confessions of the terrorists alone, who had plenty of time to coordinate versions for a lighter sentence - indicates an investigation conducted extremely problematically."
"Our father was a simple farmer, who made a living from his vineyard. He had no conflicts, no debt and not much property," the family added.
Despite the murderers' claims they sought to steal money from Bar Kapara, his family notes that nothing was taken despite the fact that both cash and Bar Kapara's vehicle were nearby. 
"Nothing was stolen from our father - the money on him was not taken and was returned to us by the police. His car, a van worth about 100,000 shekels wasn't taken, nor were cartons of grapes, etc. - everything remained at the murder scene."
"All the circumstances indicate that this was an act with nationalist motivations, not criminal," the family asserted. "We will not give up. Our father's blood cries out. We will fight until justice and the truth come out and the terrorists are punished."