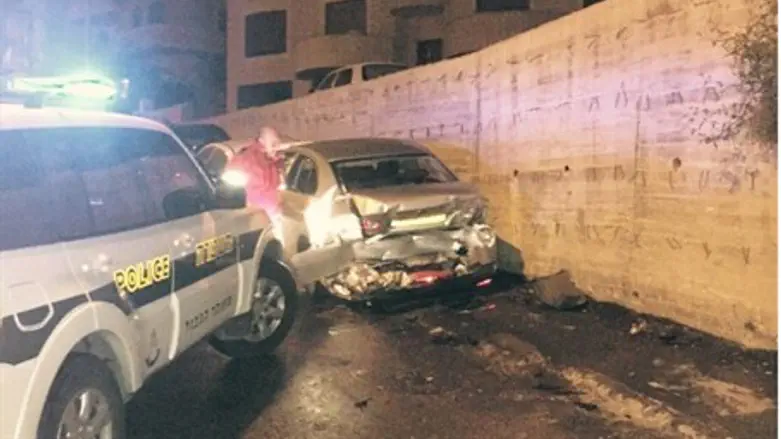 Scene of the incident
Israel Police
As Independence Day ended on Thursday night, Jerusalem district police officers on patrol found a Jewish man who had been tied up and stabbed several times in the trunk of a car belonging to Arab residents of the capital city.
The officers came across a Hyundai car that raised their suspicions of possibly having been stolen adjacent to Hazeitim Crossing, located in eastern Jerusalem near the Mount of Olives and providing entry to the capital from the Arab suburb of Abu Dis.
As they approached the vehicle to inspect its passengers, the driver began speeding away in an attempt to flee the police, driving rapidly in the direction of the Arab neighborhood A-Tur.
The police provided pursuit in a car chase through the neighborhood's streets, and in one of the streets the suspicious car evidently lost control and slammed into several parked cars, coming to a screeching halt.
The suspects exited the vehicle and began trying to escape on foot, but were quickly apprehended and arrested by the police. The two are Arab residents of the neighborhood, aged 19 and 20.
An officer in the patrol unit who arrived on the scene began to inspect the car, when suddenly calls for help were heard from the trunk.
Inside the trunk, a Jewish resident of Tel Aviv was found with his hands bound - he had several stab wounds on his body.
A Magen David Adom (MDA) paramedic vehicle was called to the scene, and evacuated him to Hadassah Ein Kerem Hospital in the capital. The wounded man was classified as being moderately wounded.
Indications are that the Arab attackers tricked the victim in Tel Aviv to give them a ride by asking for help, before robbing and stabbing him and stealing the car, later tying him up and putting him in the trunk.
"I started an initial search of the suspected vehicle, which appeared to have been stolen, when suddenly I heard cries 'help me' from the car," said Halad Saleh, the officer who found the man. "I opened the trunk and found a man in his 60s with his hands tied behind his back and bleeding."
Saleh added, "I checked him and found a number of stab wounds on his body."
District supervisor Maj. Gen. Chaim Shmueli said that "an investigation has been launched to clarify the circumstances of the incident, but there is no doubt that the awareness of the officers saved his life."