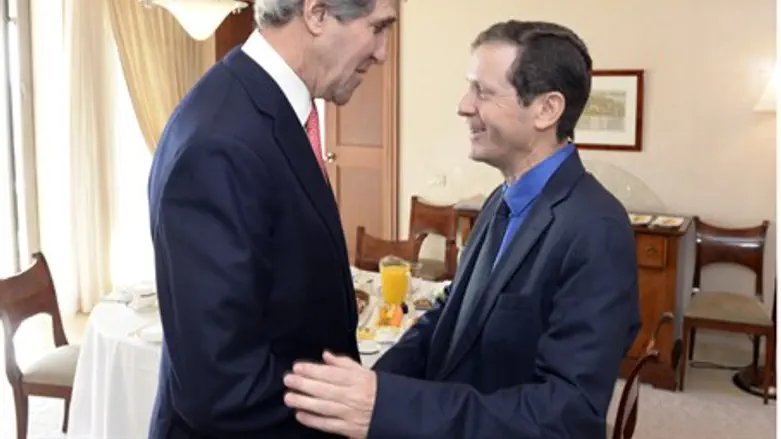 John Kerry and Yitzhak Herzog
Flash 90
Opposition leader and Labor Chairman Yitzhak Herzog said Sunday that his meeting with US Vice President Joe Biden in Munich was not related to Prime Minister Binyamin Netanyahu or upcoming elections. 
Biden and Herzog met on the sidelines of the Munich Security Conference this weekend, precisely a day after an official in Washington said that Biden would be "traveling abroad during the joint session of Congress" in which Netanyahu is to speak. 
The "informal" meeting was part of a series of meetings in which Herzog met with several international leaders, including US Secretary of State John Kerry, and the European Union's Foreign Affair Chief, Federica Mogherini. 
Speaking to Army Radio Sunday morning, Herzog reiterated that the meeting had been extremely informal. 
"At a formal dinner, with dozens of heads of state and international leaders, I was walking, and the US Secretary of State approaches me," Herzog said, "with great warmth and a smile. He says to me: 'Hey Buji, what's up?' and we talk." 
Herzog added that he does not see these talks as the interference of foreign officials, rather they showcase the "reasonable and honest relationship" between all involved parties. 
The Labor leader also claimed that various officials such as the British Foreign Secretary, Philip Hammond; German Foreign Minister, Frank-Walter Steinmeier; EU Foreign Policy Chief, Federica Mogherini; and President of the European Parliament, Martin Schulz, all requested to speak to him at the Munich conference. 
He did, in the end, meet officially with these leaders. 
But, he stressed, "the Americans, because of their busy schedules and because they are careful not to interfere in Israel's elections, did not ask to meet me - but, when they saw me, they turned to [talk to] me with warmth and friendship." 
Likud politicians, however, were not taking the bait, with a number of them incensed at the meeting - informal or not.
Much of that anger stems from the Labor party's continued attacks on Netanyahu, and the blame party members, including Herzog, have shoved on him for Biden's boycott of the Prime Minister's Congress speech. 
"Buji's behavior in Munich is an irresponsible crossing of red lines," the party said. "As the Prime Minister is trying to prevent a dangerous agreement between world powers and Iran, the leader of the Opposition chooses to weaken Israel's position in the international arena."
"The good of the country demands that disagreements between the left and the Likud be clarified in Israel," the Likud continued, adding, "Instead Buji runs to Munich for political and personal reasons in order to discredit the Prime Minister of Israel in violation of national interest and security."