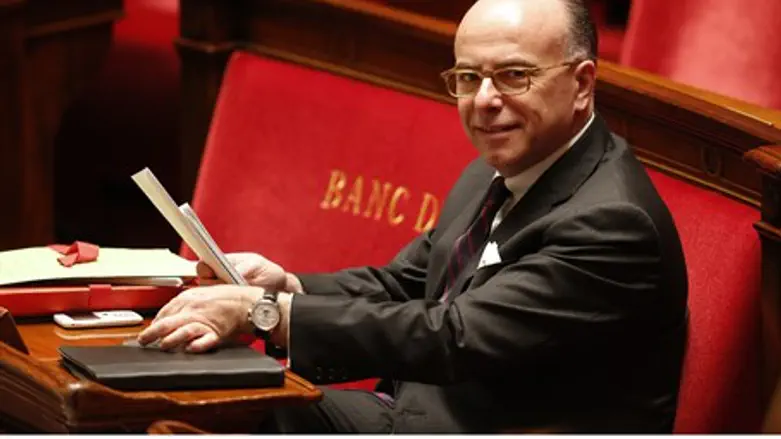 Bernard Cazeneuve
Reuters
France's interior minister on Wednesday condemned an "anti-Semitic" attack on a young couple that saw armed assailants storm into their apartment, rape the woman and steal jewelry and bank cards.
Interior Minister Bernard Cazeneuve said in a statement quoted by AFP that the "anti-Semitic nature (of the attack) seems proven," adding that the assailants "started with the idea that being Jewish means having money."
The attack happened around lunchtime on Monday, when a 21-year-old man and his 19-year-old girlfriend were in an apartment in Creteil just outside Paris.
According to the family's lawyer, the attackers said "you Jews, you have money" when entering while wearing masks and gloves. The father of the family wears a kippah and those in the neighborhood would have known they were Jewish, said lawyer Severine Benayoun.
The suspects were armed with an automatic pistol and a sawed-off shotgun. They tied up the victims, raped the young woman and fled an hour later after stealing jewelry, bank cards and mobile phones, a source familiar with the case said.
Two suspects accused of participating in the violence were charged on Wednesday with gang rape, armed robbery, kidnapping and extortion followed by violence due to religious affiliation, prosecutors said, according to AFP.
The third suspect in the attack remains at large. A fourth suspect has been arrested as an alleged accomplice in the robbery.
The accused are also suspected of having beaten a Jewish man in his 70s in November.
A lawyer for one of the suspects said the interior ministry had reacted prematurely and condemned the "media frenzy" surrounding the case.
France has seen a sharp rise in anti-Semitism in recent years, and it flared particularly during this past summer's Operation Protective Edge, with violent protests in Paris. 
In one incident, hundreds of Muslim extremists attacked a major synagogue in Paris, provoking clashes with Jewish youths who rushed to defend the site and worshippers trapped inside.
Following the attack in Creteil, the European Jewish Congress (EJC) expressed shock and horror and called for a robust and immediate government response and a plan of action to combat anti-Semitism in France.