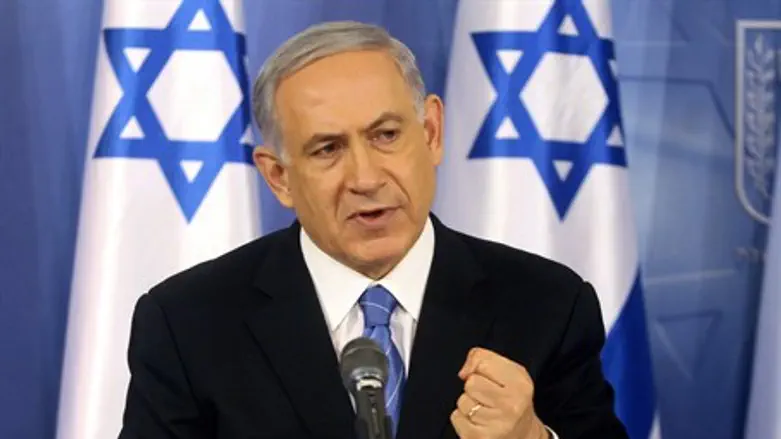 Binyamin Netanyahu
Flash 90
Prime Minister Binyamin Netanyahu addressed his weekly cabinet meeting Sunday morning issuing a zero-tolerance policy against Arab riots throughout the country as well as calls against the existence of the State of Israel.
"We will not tolerate demonstrations calling for the destruction of Israel," Netanyahu stressed, adding that those who are behind the incitement - including the Islamic Jihad Movement and the Palestinian Authority - are doing so in "an attempt to distort historical truth and we must tell the truth."
"We will take determined action against those who throw stones, firebombs and fireworks, and block roads, and against demonstrations that call for our destruction. We are not prepared to tolerate more demonstrations in the heart of our cities in which Hamas or ISIS flags are waved and calls are made to redeem Palestine with blood and fire, calling in effect for the destruction of the State of Israel," the PM said.
Netanyahu added that security forces will act decisively against individuals throwing firebombs or shooting off fireworks at police.
"Standing behind this incitement are – first of all – the various Islamic movements: Hamas and the Islamic movement in Israel. In the forefront, at least vis-a-vis the agitation on the Temple Mount, are the Mourabitoun and the Mourabiat – movements engaged in incitement and which are financed by funds from extremist Islam. I have instructed that they be outlawed."
He also directed criticism towards Palestinian Authority leader Mahmoud Abbas for a series of inflammatory comments urging violence by Palestinian rioters.
"But also standing behind this incitement is the Palestinian Authority and its leader, Abu Mazen. The website of their official body, Fatah, explains that the Jewish people were, in effect, never here, that the Temple was never here, that David, Solomon, Isaiah, Jeremiah and the kings and prophets of Israel – are all fiction. This is nothing less than a clear attempt to distort not only the modern truth, but also the historical truth."
Netanyahu also addressed the impending deadline for a deal between Iran and world powers over its nuclear program.
"Against these distortions and these gross lies, we must tell the truth to our people and to the world. We must tell the truth to the supreme element that seeks our destruction and I mean Iran," he continued.
"The President of Iran, or the leader of Iran, Khameini, has been in the news of late. Just yesterday he called for our destruction. Remarks to the effect that Iran has moderated are overshadowed by Iran's actual policies, including the call for our destruction and the denial of human rights, which has surged in Iran in the past year, and the reports that we are receiving from the IAEA that Iran is continuing to lie and to lead the world astray regarding its plans and actions to achieve nuclear weapons.
"Against such an Iran, which is controlled by such a regime, we must do everything so that it does not acquire nuclear weapons or the ability to produce nuclear weapons on short notice. And the international community now faces a clear choice, to give in to Iran's demands in a capitulation agreement that endangers not only Israel but the entire world, or to insist on the demand that Iran dismantle its ability to manufacture nuclear weapons. Israel will not countenance an agreement that leaves Iran as a nuclear threshold state. This endangers us all." 
Due to the Arab riots in the Galilee and violent rock-throwing incidents across Jerusalem and Samaria Saturday, the police decided Sunday morning to raise the country's security alert level to Gimmel (C), one level below the highest, for fear of expansion of the riots.
The latest breakout of violence is due to the death of Hir Alhamdan, a resident of Kafr Kana in the Galilee. He was shot and killed by police on Friday night after lunging at a police car and making repeated stabbing motions. 
However, a "silent intifada" has been going on in Jerusalem for months with hundreds of incidents including rock-throwing, firebombing, hit-and-run terror attacks, as well as an assassination attempt on activist Yehuda Glick. Several people have been killed and dozens more injured. 
On another security front, thirty Israeli Arabs were revealed to have joined fighting for the Islamic State as of last month. 
As a result, Prime Minister Netanyahu also proposed a bill Sunday, a revival of a similar motion proposed by Yisrael Beytenu in 2008, that would see citizenship revoked for any Israeli who calls for the destruction of the State of Israel.
"Israel is a state of law," he said. "We will not tolerate disturbances and riots. We will act against rock throwers, road blockers and those calling for the establishment of a Palestinian state in place of Israel. Those who do not respect Israeli law will be punished very seriously."