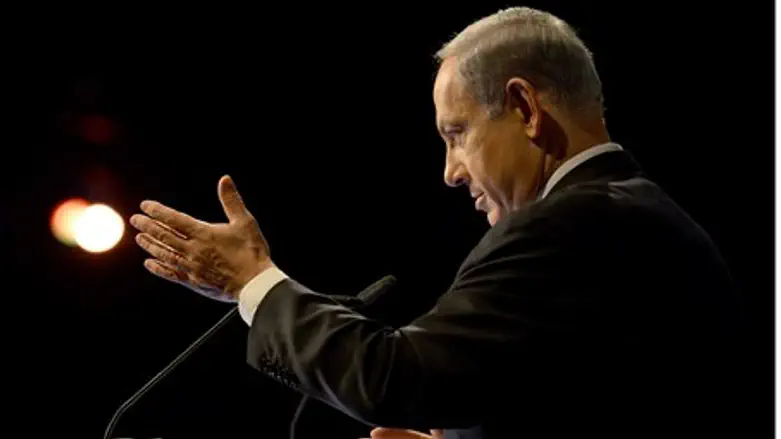 Binyamin Netanyahu at alternative fuel conf.
Flash 90
Prime Minister Binyamin Netanyahu and Science Minister Ya'akov Perry (Yesh Atid) on Sunday announced the winners of the Prime Minister's Prize for Innovation in Alternative Fuels for Transportation.
The two recipients, Prof. Michael Grätzel of the Swiss Federal Institute of Technology in Lausanne, and Prof. Thomas Meyer of the University of North Carolina, will be the second set awarded with the prize by the Prime Minister's Office, the Ministry of Science, Technology and Space, and Keren Hayesod.
The Eric and Sheila Samson Prize, as it is also know, totals $1 million and is the world's largest monetary prize in the field of alternative fuels.
"We are making a major multi-year effort so that we will not be dependent on fluctuations in the price of oil. This prize gives the researchers true appreciation for their efforts," said Netanyahu on announcing the winners.
Perry also spoke during the announcement, saying "this prize symbolizes the state of Israel's commitment to the advancement of the field of alternative fuels, which is of utmost importance to every aspect of our lives here - to Israel's economy, security, scientific research and society."
Grätzel was selected for his research in development of a new solar cell termed the Grätzel Cell, which imitates photosynthesis converting light energy into electric energy that can be used for electrical propulsion, or to split water into hydrogen and oxygen, a process useful for fuels. The cells have the highest efficiency in using solar energy, and are much cheaper than normal solar cells.
Meyer has also pioneered the field of artificial photosynthesis, and the development of solar fuels by splitting water into hydrogen and oxygen. His research has made a critical contribution to the technological development of cell for artificial photosynthesis.
"The basic scientific discoveries and the technological developments of the prize recipients have helped humanity advance one step closer to the moment in which it can use available and unlimited solar energy for transportation and other needs and it can stop using diminishing and polluting fossil fuels," said Professor Yitzchak Apeloig, Chairman of the Board of Trustees that selected the winners.
The two will be presented with their prizes on December 3 at the Fuel Choices Summit, an international conference for fuel alternatives.
National Fuel Alternatives Program Director Eyal Rosner spoke about the initiatives, saying "Israel has set itself an ambitious goal - to reduce the use of conventional fuel for transportation by 60% by the year 2025."
"Israel is prepared to become the global leader in this field - we must reduce our dependence on fuel and the dependence on oil-producing nations; and consequently, we will strengthen the world economy," added Rosner.