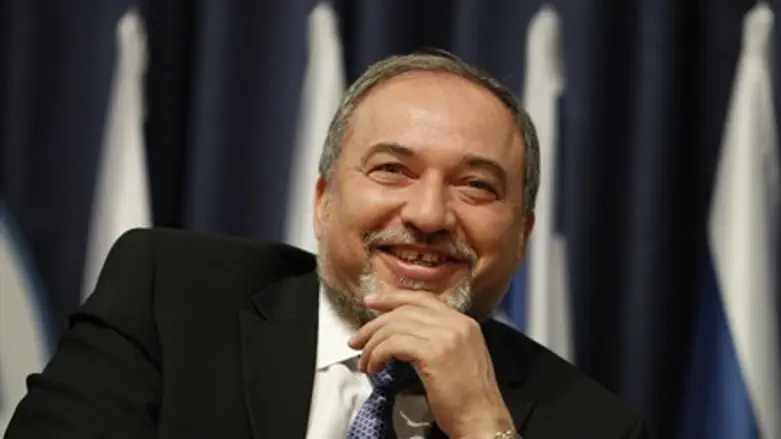 Foreign Minister Avigdor Liberman
Flash 90
The Ministry of Foreign Affairs announced Wednesday that Israel has been accepted as a full member of CERN, the European Organization for Nuclear Research. The move was first announced in December. 
Foreign Minister Avigdor Liberman represented Israel at the ceremony held at the CERN Globe of Science and Innovation in Geneva, at the end of which the Israeli flag was added to the line of flags representing the member states of the organization.
Liberman said that it was a source of great pride for him to see the Israeli flag raised, symbolizing Israel's participation in the forefront of world science and progress.
He added that the admission of Israel as a full member of the organization is a recognition of the high level and quality of scientific research in Israel and its contribution to the welfare of the human race. 
Liberman also noted also that Israel's admission to the research center is the culmination of years of diplomatic efforts via the Foreign Ministry. Israel is the 21st member state of CERN, the only country outside Europe to have achieved full membership, and the first new member country since 1999. 
Israeli officials are optimistic about full membership in the organization, despite the European boycott of Jewish products from Judea and Samaria.
After the Knesset approved the diplomatic status of scientists working at CERN in November, Deputy Foreign Minister Ze'ev Elkin stated that Israel's membership in CERN "is further proof that Europe wants to work with us" and that "as long as there is no politicization and that cooperation between Israel and Europe will continue."
The way was paved for Israel's membership in the group when the Knesset passed a law that gives Israeli scientists working at CERN the same rights as diplomats, a status required by the CERN bylaws. CERN requires scientists to have diplomatic status, according to the organization, in order to ensure that governments do not interfere with the group's research.
The scientists also received an exemption from paying income tax. In addition, Israel pledged to pay an annual membership fee of $13 million.
CERN is the world's largest particle physics laboratory. It made headlines in 2012 when it discovered the so-called "God particle," or the Higgs boson.