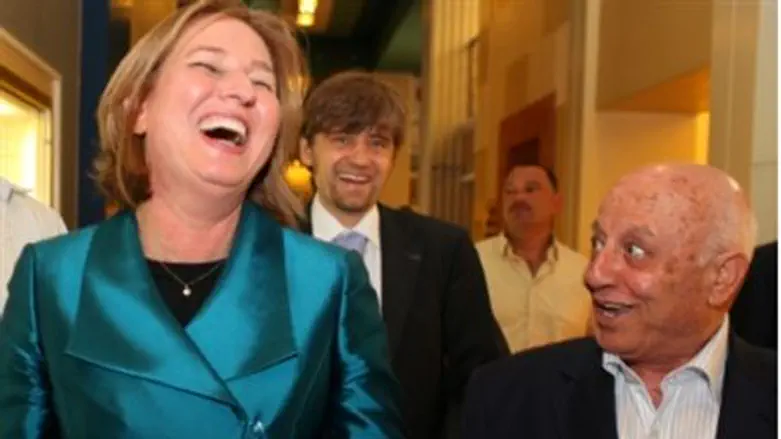 Livni and PA's Qureia in 'peace talks'
Israel news photo: Flash 90
The contents of the "peace talks" between the Israeli negotiating team, led by Justice Minister Tzipi Livni, and the Palestinian Authority (PA) team led by Saeb Erekat, is being kept under wraps, but crumbs of information occasionally make it to the media.
A senior diplomatic source, said to be in the know regarding the talks, is cited by the daily newspaper Israel Hayom Tuesday as saying that there is a wide rift between the positions of the two sides.
"The gap between the sides is very deep," the source said. He added that he cannot imagine how the gap between the positions can be bridged, and that "the key to changes could be if the Palestinians make concessions."
MK Tzachi Hanegbi, who is considered as being very close to Prime Minister Binyamin Netanyahu, has told Arutz Sheva that he expects the negotiations to reach a dead end as the nine month period allotted to them reaches its completion. The reason for this assessment, he said, is the large gap separating the Palestinian demands and the prime minister's red lines.
In a television interview, Erekat accused Netanyahu of torpedoing the talks. Netanyahu is "playing the role of occupier," he said, and constructs buildings in Judea and Samaria in order to sabotage the negotiations.
Prime Minister Netanyahu and US Presiden Barack Obama spoke by phone Monday night and discussed the Israel-PA talks, as well as the Iranian nuclear weapons program.