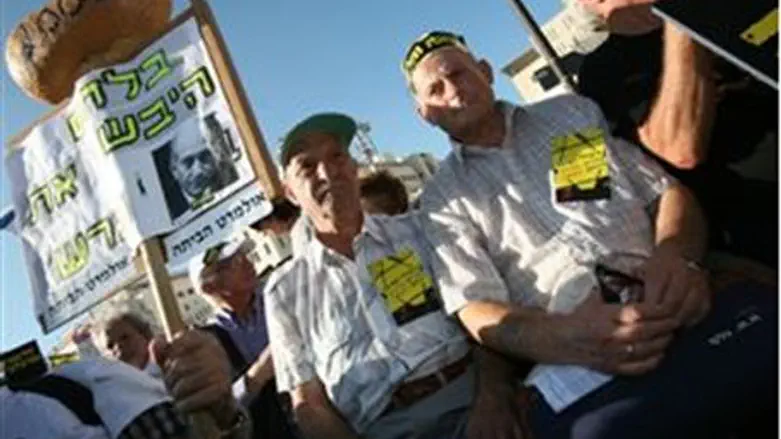 Holocaust survivors
Israel news photo: Flash 90

The Knesset's Labor, Health and Welfare Committee held a discussion Monday on the need to give more aid to Holocaust survivors in Israel.
"We have to push this forward quickly, to ease Holocaust survivors' lives while they are still with us. The problem is going away – in 15 years, there will not be anyone left to give to," said committee head Haim Katz (Likud).
Welfare Minister Meir Cohen agreed. "I'm amazed that nobody took charge of this issue… I'm prepared to take responsibility and to pursue the Finance Ministry to get the budget expanded," he said.
A 2007 report officially defined who is considered a Holocaust survivor, and called to both increase the number of survivors eligible for special assistance and to set a minimum level of aid that would guarantee survivors the ability to live with dignity. Katz said he would push legislation based on the report.
Deputy Finance Minister Mickey Levy (Yesh Atid) said that Finance Minister Yair Lapid would be willing to expand the budget as needed. "When the needs have been defined we will find the necessary funds, despite the current financial hole. There is no one more willing to help than Finance Minister Lapid in this matter," he said.
Levy's call to define survivors' needs before creating a budget upset several of his listeners.
Holocaust Survivors' Welfare Fund head Avi Dichter said, "Eradicating poverty among Holocaust survivors is not complicated. We could postpone investments in infrastructure and in water treatment, because those can be fixed later. We won't be able to make up for neglect of Holocaust survivors."
Holocaust survivor Dora Roth responded with outrage to Levy's statements, "All this talk doesn't interest us at all," she said. "How can it be that there are Holocaust survivors living without heat? It's a disgrace. Let us die with dignity."