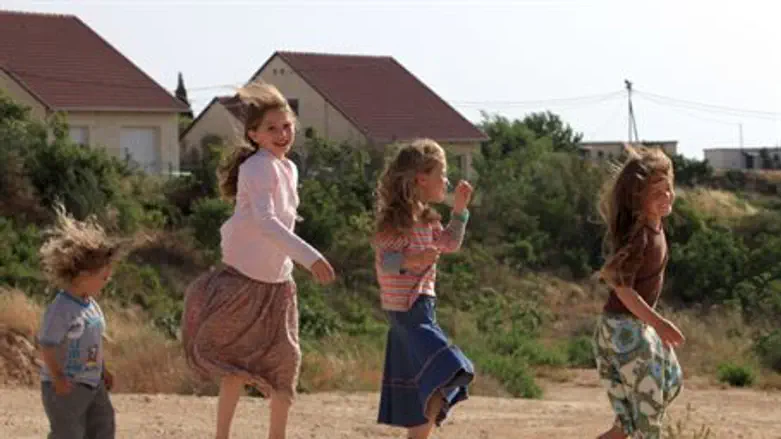 Children play in Samaria
Flash 90
On Jerusalem Day the Moskowitz Prize will be given to Rabbi Moshe Levinger, one of the pioneers of Jewish settlement in Judea and Samaria (Shomron).
Rabbi Levinger and his wife Miriam were among the founders of the Israeli city of Kiryat Arba and of the renewed Jewish community of Hevron.
Miriam Levinger spoke to Arutz Sheva about her memories of those years. "We were always working on things related to the land of Israel," she said. "In the beginning with Rabbi Tzvi Yehuda Kook's guidance, of course."
"My husband always strove to do things honestly and with self-sacrifice," she added.
At first, Rabbi Levinger was considered a curiosity, she said. "Today, thank G-d we have the young generation, we see that Zionism brought forth generation after generation."
"In 1956 we were a tiny, disliked minority, today we see the entire, wonderful young generation. We have great-grandchildren in settlements, and that shows the righteousness of our path," she said.
The Levingers remain active to this day. "My husband Moshe meets every week with a young people from the Nahala movement who are planning to create ten new outposts soon," she said.
"We look to the past with satisfaction, and to the future with joy, and we see that it was all worth it. Despite the troubles that were, when you see today's young generation you understand what a success it was," she added.
Regarding international criticism of Israeli settlement, she said, "My husband always told the young people that the fact that the nations of the world go wild over every hut that is built shows how important it is."