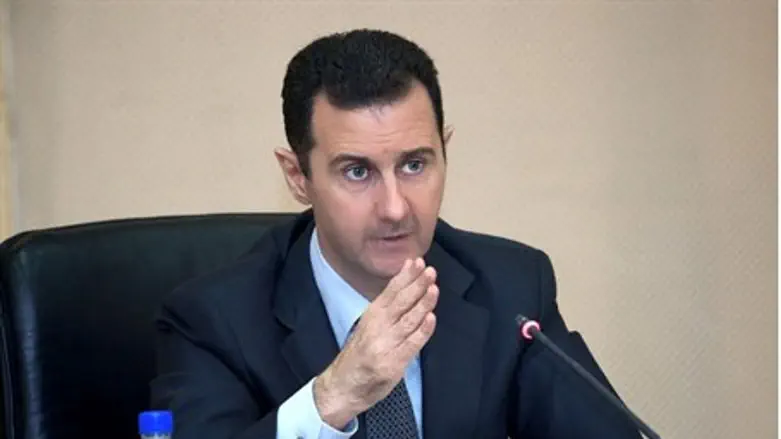 President Bashar al-Assad
AFP photo
A senior Iranian lawmaker charged on Wednesday that the Western media is creating a hype against Syria as a tactic aimed at diverting attention from "Israel's crimes", PressTV reported.
"Iran tries to counteract the negative wave of anti-Syria propaganda by the Western media," said the Chairman of the Iranian parliament's Foreign Relations Committee Vahid Ahmadi.
"Over the past two years, the enemies of Islam have devoted all their efforts to creating tension in Syria and causing problems in the entire region in an attempt to divert the barrage of criticism from the Zionist regime (of Israel) to another point and produce propaganda fodder for their media," he added, according to PressTV.
The Iranian lawmaker pointed to the Syrian nation's discontent over the foreign intervention in the country, saying, "Countries such as Turkey, Qatar and Saudi Arabia have turned into the West's puppets in the region which overtly interfere in Syria's affairs."
Ahmadi underscored Iran's determination to continue its support for the regime of President Bashar Al-Assad "because Syria is Iran's ally in the region and it has always been one of the countries that has protected the frontline of resistance against the Zionist regime."
Iran, a longtime supporter of the Assad regime, has remained by his side during the ongoing civil war in Syria.
The Iranian government has in the past confirmed sending troops to support President Bashar Al-Assad in his battle against rebels.
Iranian President Mahmoud Ahmadinejad personally sanctioned the dispatch of the experienced officers to ensure that the Assad regime survives the threat to its survival.
At the same time, officials indicated a few months ago that Iran and Hizbullah, its Lebanese terror proxy, have been building a network of militias inside Syria to preserve and protect their interests in the event that Assad's government falls or is forced to retreat from Damascus.
According to the sources, who spoke to the Washington Post newspaper in February, the militias are fighting alongside Syrian government forces to keep Assad in power. Officials believe, however, that Iran's long-term goal is to have reliable operatives in place in the event that Syria fractures into separate ethnic and sectarian enclaves.