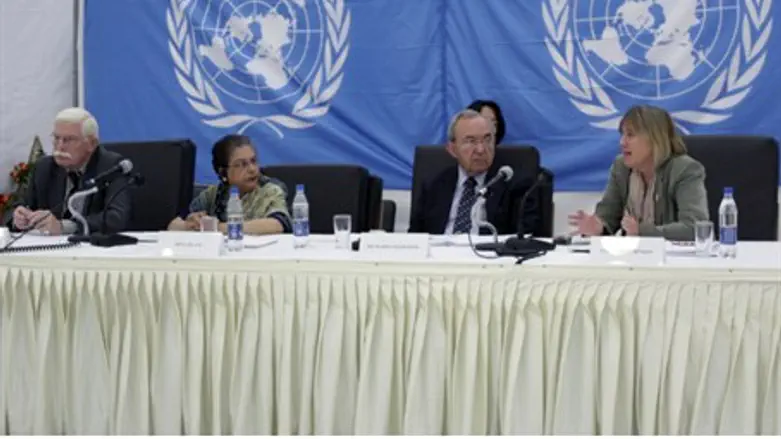 UNHRC mission
Israel news photo: Flash 90
The United Nations has demanded that Israel immediately freeze all construction in Judea, Samaria and parts of Jerusalem restored to the city in the 1967 Six Day War -- including those in the Israeli capital's Old City that contain the holiest sites in the Jewish faith, the Western Wall and the Temple Mount.
The call, an echo of the constant demand by Ramallah-based Palestinian Authority Chairman Mahmoud Abbas, came from a team appointed by the U.N. Human Rights Council that presented its conclusions Monday in a report to diplomats in the agency's Geneva headquarters.
In the report, the team also demanded that Israel begin to withdraw its citizens from Judea and Samaria (Yehuda and Shomron), according to AFP.
Earlier Monday, former Foreign Minister Avigdor Liberman told journalists it was "highly unlikely" that any resolution to the Israel-PA stalemate in the next four years, regardless of demands by Abbas or anyone else. "Nothing will happen in the Palestinian subject in the next four years," Liberman said. "That is my estimate. Anyone who thinks otherwise lives in an illusion." 
U.S. President Barack Obama, expected to arrive in Israel on Wednesday, likewise today has few illusions about the complexity of the issue. Now starting his second term of office, the American leader has learned that peace in the Middle East requires more than one partner, and cooperation on all sides. Obama has labeled his visit as a "listening tour" and little else, making it clear he has no expectations of accomplishing anything other than hearing what others have to say.
The UNHRC, meanwhile, is deeply influenced by its overwhelming numbers of anti-Israel members and is notorious for its frequent condemnations of the Jewish State.
As a result, over the past year the State of Israel has severed all ties with the UNHRC due to the international body's decision to research the influence of "settlements" on Palestinian Authority Arabs. 
The agency's resolution refers to Jewish communities, decades old, that include some cities that are home to more than 30,000 residents in Judea and Samaria -- and some neighborhoods in Jerusalem with up to 40,000 residents.