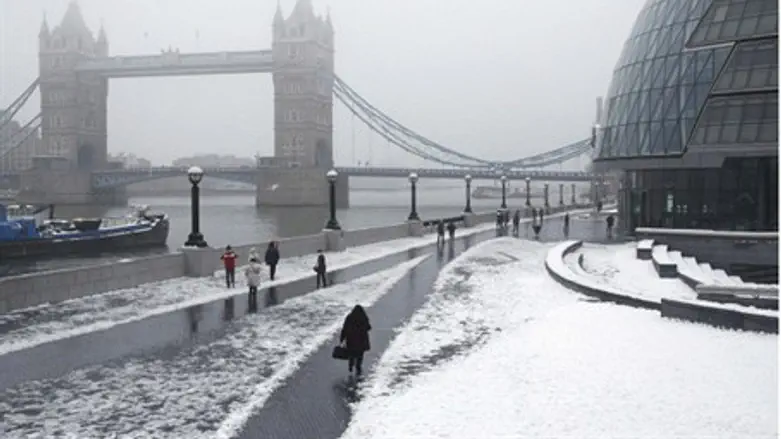 London
Reuters
Rupert Murdoch apologized on Monday for a "grotesque" cartoon carried in one of his British newspapers, showing Prime Minister Binyamin Netanyahu building a wall with the bodies of Palestinian Authority Arabs, AFP reports.
The acting editor of the Sunday Times newspaper, Martin Ivens, is due to meet with members of the Jewish community in Britain on Tuesday to apologize in person after they made a formal complaint about the image to media regulators, the report said.
The cartoon by Gerald Scarfe, which appeared on International Holocaust Remembrance Day, depicts a scowling Netanyahu waving a blood-covered trowel, laying bricks in a wall in which PA Arab men, women and children are trapped. Underneath are the words, "Israeli elections - will cementing peace continue?"
"Gerald Scarfe has never reflected the opinions of the Sunday Times. Nevertheless, we owe major apology for grotesque, offensive cartoon," Murdoch, who owns the Sunday Times and its daily sister paper the Times, said on Twitter, according to AFP.
The cartoon sparked outrage and condemnation in both Israel and Britain. Ambassador Daniel Taub, who represents Israel in London, commented on the cartoon, saying, "Israelis have a longstanding commitment to free speech and a high threshold for tolerating strong and even provocative criticism. This cartoon, however, bears no relation whatsoever to legitimate political comment."
It was also blasted by the European Jewish Congress, which demanded that the Sunday Times publish an apology, and by commentators.
"The cartoon will be defended as fair comment about Israel's security fence that the Palestinians and their foreign cheerleaders depict as a war crime," wrote Jonathan Tobin of Commentary Magazine. "That this strictly defensive measure was made necessary by the Palestinians' campaign of suicide bombings that cost the lives of a thousand Jews in the last decade goes unmentioned."
Israel's parliamentary speaker also lashed out Monday at the cartoon.
"For the people of Israel, this is a cartoon which recalls the dark journalism from one of humankind's darkest periods," Knesset speaker Reuven Rivlin wrote in a letter to his British counterpart John Bercow.
"As a democrat, I support political criticism but in publishing this cartoon yesterday in London, the boundaries of free speech were crossed," Rivlin wrote, adding, "Prejudice had deeply influenced legitimate criticism."
The Board of Deputies of British Jews, a representative body, lodged a complaint with the Press Complaints Commission over what it said was an "appalling" and "disgusting" cartoon.
It said it was "shockingly reminiscent of the blood libel imagery more usually found in parts of the virulently anti-Semitic Arab press," according to AFP.
In a statement, Sunday Times acting editor Ivens said, "The last thing I or anyone connected with the Sunday Times would countenance would be insulting the memory of the Shoah or invoking the blood libel.
"The paper has long written strongly in defense of Israel and its security concerns, as have I as a columnist.
"We are however reminded of the sensitivities in this area by the reaction to the cartoon and I will of course bear them very carefully in mind in future."