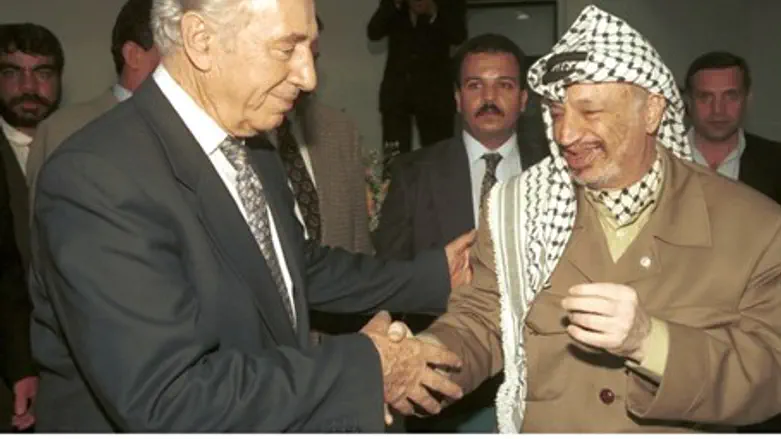 Peres with former PLO Chairman Yasser Arafat
Flash 90
President Shimon Peres spoke with Christian leaders on the eve of the new year on the Gregorian calendar and said that peace is a Biblical commandment.
Often repeating what arguably is the line most often used by Peres in his political career, he said, Peace is not just a need but it is a commandment, moreover from the Old and New testaments.
"Peace is not just a dream, or a far-sighted aim….There is a beginning of peace in the Middle East.
"We have peace with Egypt. There is a peace treaty with Jordan," and the ever-optimistic president added, "We have begun the [peace] process with the Palestinian Authority."
President Peres, who several years ago expressed surprise that Hamas fired missiles on Israel after the expulsion of Jews and withdrawal of the IDF from Gaza, drew the red line at Hamas concerning peace talks.
He said he is determinedly against negotiating with the terrorist organization unless it accepts the three conditions set down by the Quartet (United States, United Nations, Russia and the European Union) – a cessation of terror, acceptance of previous agreements and the recognition of Israel.
"They have to choose if they want to build or open fire," President Peres told the Christian leaders.