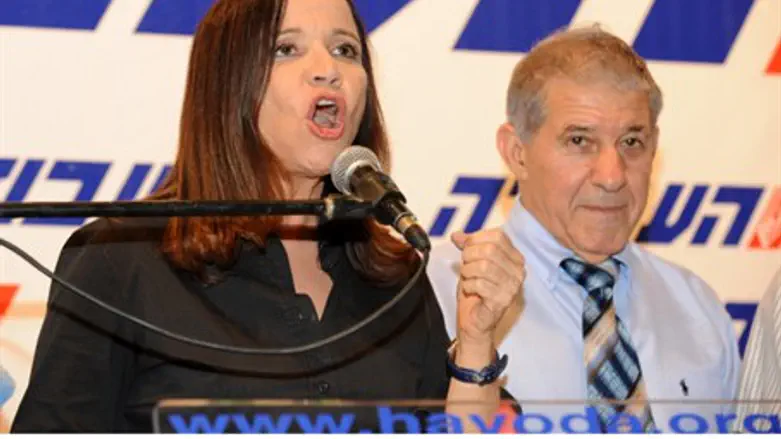 Victorious Yachimovich
Flash 90
Labor party chairman Shelley Yechimovich on Monday said her goal was to "overthrow" Prime Minister Binyamin Netanyahu.
"We welcome the early elections," she said during a meeting of the Labor Central Committee. "Its no secret that we were active participants and partners for early elections from the outset."
"Our goal is to overthrow Netanyahu, our objective is to overthrow the Likud and establish an alternative government which is responsible, fair and social-democratic," Yechimovich went on. "Yesterday, Netanyahu attacked us. Today, it was Mofaz."
"It is well-understood that we are an alternative to the government. As long as they attack us they show we are the real alternative. We have a vision and an agenda. Its a peaceful alternative, which we offer to discriminating voters," she said.
"I'm ready to write Netanyahu's epitaph," she said. "And get to work."
Labor under Yechimovich is currently polling in second place with 17 seats, while Likud under Netanyahu is surging in the polls with 31 seats.
Analysts say – with the Likud and its allies showing a small increase in seats in the polls despite disagreement over the Tal Law – that Netanyahu is certain to have sufficient coalition partners to form the next government.
As a result, despite her campaign-trail rhetoric, Yechimovich is almost certain to find herself leading the opposition in the next Knesset rather than engraving Netanyahu's political tombstone.
Current opposition leader Shaul Mofaz's Kadima party has imploded in the polls. While it presently holds 28 seats – making it the largest Knesset faction – it is polling at 13 seats.