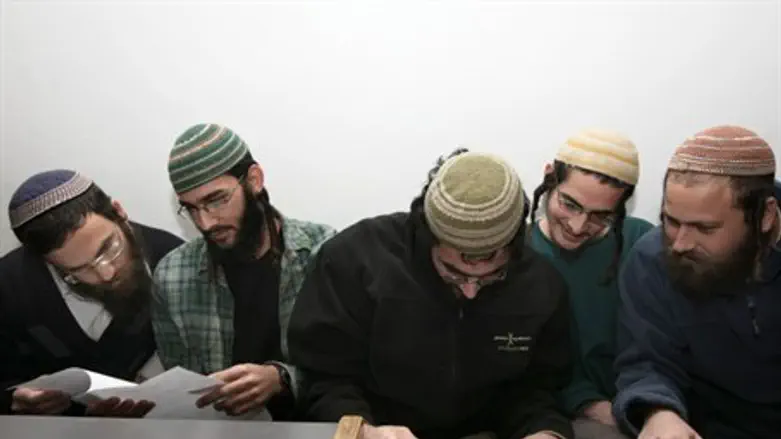 The five nationalists in court
Israel news photo: Flash 90
The government withdrew charges that five youth tracking IDF plans for expulsions were "spies" but nevertheless forbade phone calls with family members.
The judicial system rejected police appeals to keep them in jail but placed them under house arrest and away from their homes in Judea and Samaria.
Government prosecutors implemented measures to make their conditions "as difficult as possible as part of a campaign of incitement, in cooperation with mainstream media," Elad Meir, father of one of the suspects, told Arutz Sheva.
His son is staying with relatives on a moshav outside of Judea and Samaria and is not allowed to talk with his parents on the telephone, according to Meir. "Instead of holding a simple conversation with him, the prosecutor has forced our family to drive to where he is staying just to say hello and find out how he is."
He added that prosecutor Shai Nitzan also has cancelled a meeting scheduled for Wednesday between his son and his lawyers, who were to discuss how the deal with the indictment.
The five youth are charged with gathering information by manning outposts in order to survey police and military movements prior to demolitions of Jewish homes at outposts and the expulsion of their residents.
Judge Yitzchak Amit noted in his ruling against holding them in jail, "A democratic state cannot change the rules of the game even for people who do not act democratically." He added that the five suspects were not directly involved in violence at an IDF base in Judea and Samaria that was infiltrated by activists.