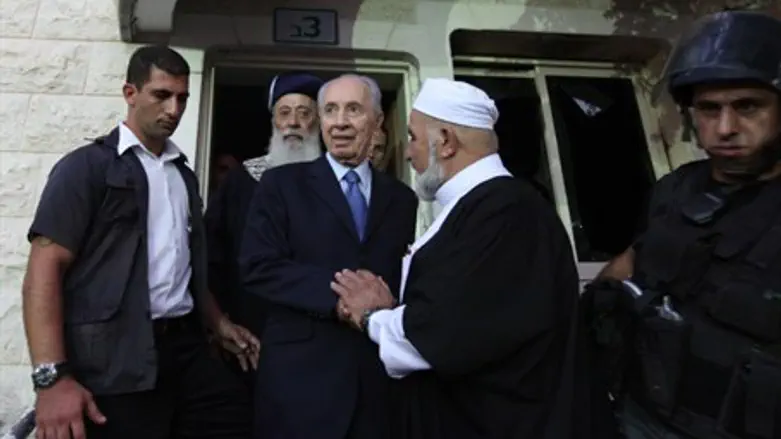 President Peres visits damaged mosque
Israel news photo: Flash 90
A suspect has been remanded into custody in connection with the torching of the mosque in the village of Tuba Zangariya.
He is accused of entering the village mosque early on the morning of Monday, October 3 and setting it afire. The structure was heavily damaged by the blaze, an incident that sparked riots in the village. The arson also prompted criticism from across the spectrum, including from the head of Bnei Akiva yeshiva system, Rabbi Chaim Druckman, the Kotel Rabbi, Rabbi Shmuel Rabinovich and from the United States.
Police arrested the suspect, a resident of northern Israel, several days ago. He attends a yeshiva in Samaria, according to media reports following an arraignment in the Kfar Saba magistrate's court.
The court extended the remand of the suspect, whose name was not released, by six days, rather than the eleven days requested by police, after attorney Adi Kedar called for his release altogether, questioning the evidence on which he was being held.
Although the suspect is being held on suspicion of torching the mosque, he was picked up on an entirely different charge, having been arrested at first on suspicion of illegal use of a vehicle.
Kedar told the court that "a strange sequence of events led to the suspect's arrest in Samaria."
Numerous political figures have rushed to publicly condemn the arson and have vowed to do everything possible to catch and "severely punish" those responsible.
Deputy Minister for the Development of the Negev and Galilee Ayoub Kara told journalists during a visit Thursday with local leaders in the northern Bedouin village, "These are people who served the country and contributed to its defense.
"I am ashamed that such a terrible act of mosque arson happened in such a positive, noble place. The preservation of holy sites is of the highest order, and perpetrators are to be treated as deadly assailants."
Kara recommended that the chairman of the local council be relieved of his duties "immediately" and that "elections for a new chairman be held. This will restore quiet and daily routine."
Home Front Command Minister Matan Vilna'i also visited the village, promising local officials, "We will not let any radical element incite the Galilee, and damage our good relations with our neighbors."