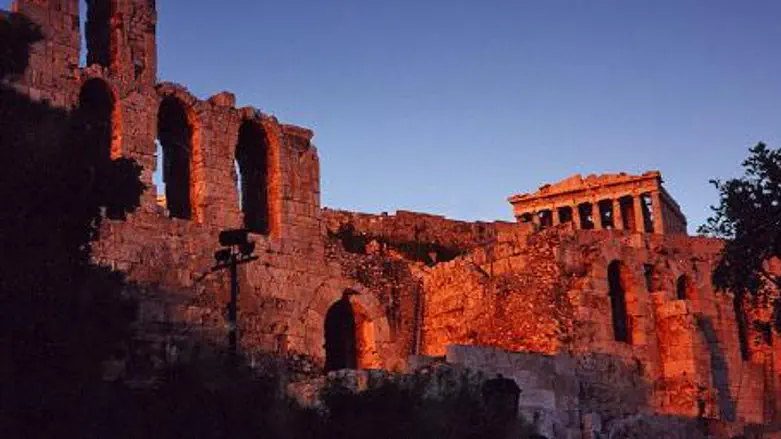 The Acropolis in Athens
Aaron Logan, http://www.lightmatterphotography.com/
A film documenting Jewish life in Greece prior to and during the Holocaust (Shoa) premiered this week in New York City. The film, In the Shadow of the Acropolis, was created by Laura Zelle, whose mother's family is from Athens.
The premier was held in the Kehila Kedosha Janina synagogue, which was built in the 1920s by Romaniote Jews from Greece. For centuries, Greece was home to two Jewish communities, the Romaniote, and Sephardi Jews, whose ancestors fled Spain during the Inquisition.
The Zelle family belonged to the Romaniote community. Many members of the family were rounded up and deported to Auchwitz-Birkenau in 1944. Laura Zelle's mother, grandmother, and some others were saved.
The surviving members of the Zelle family lived through the war with the help of a local Greek Orthodox Christian woman, who was later honored as Righteous Among the Nations by the Yad Vashem Holocaust memorial project.
In the Shadow of the Acroplis documents attempts by members of the Greek Christian community to protect Greek's Jews, as well as the destruction of Jewish life by the Nazis.
The Romaniote Jewish community in Greece dates back approximately 2000 years. The community was the oldest Jewish community in Europe, and members spoke a unique dialect, Yevanic.
Roughly 86% of the Jews living in Greece in 1940 were murdered in the Holocaust. Between 8,000 and 10,000 survived, largely due to aid from the Christian community, including senior figures in the Greek Orthodox Church. Today, the Jewish population of Greece is approximately 5,000.