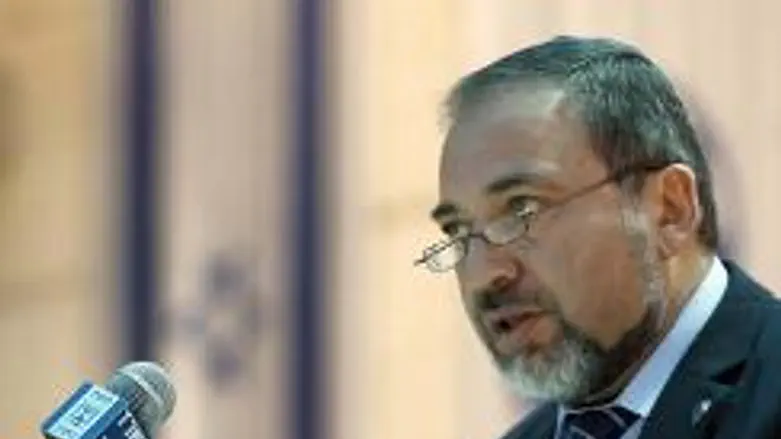 Foreign Minister Lieberman
Israel News photo: Flash 90
The relationship of "good friends agree to disagree" took a tough test Wednesday afternoon as U.S. Secretary of State Hillary Clinton, with Foreign Minister Avigdor Lieberman standing at her side, told reporters, "We want to see a stop to the settlements."
Foreign Minister Lieberman, who himself lives in the settlement of Nokdim, south of Jerusalem, did not flinch and retorted, "We think that as in any place, babies are born, people get married, some pass away and we cannot accept this vision about an absolutely complete freezing of settlements."
Elliot Abrams, former adviser on the Middle East to the Bush government, wrote this week that the Obama administration's emphasis on a construction freeze in Judea and Samaria will lead to "needless confrontation" with Israel.
The confrontation escalated with the Clinton-Lieberman sparring match. Their opposing positions were not new, but their public standoff "appeared to be one of the most tense encounters between the sides for several years," the Financial Times of London reported.
In a major policy speech this past Sunday, Prime Minister Binyamin Netanyahu maintained that the issue of building in Judea and Samaria is not a major issue, a position echoed on Wednesday by Michael Oren, Israeli Ambassador to the United States.
Secretary Clinton views the destruction of "settlements," meaning Jewish communities in Judea and Samaria, as a crucial step towards creating a new Palestinian Authority state on the same land, with its capital in eastern Jerusalem.
After years of an almost non-stop erosion of Israeli positions opposed by the United States, Prime Minister Binyamin Netanyahu has drawn clear red lines that have a left a stalemate, at least for the time being.
Foreign Minister Lieberman, who heads the Yisrael Beiteinu party, and the Prime Minister, head of the Likud, see eye-to-eye on the need to continue building for Jews in existing communities in Judea and Samaria and on the retention of Jerusalem as the undivided capital of Israel.
In her remarks Wednesday, Secretary Clinton also directly rejected Lieberman's claim that Israel had reached "some understandings" with the Bush administration.
She reiterated her rejection of former President George W. Bush's written promise to former Prime Minister Ariel Sharon -- for which she herself had voted as a junior senator in 2004 -- that areas of large Jewish populations, such as Maaleh Adumin and Gush Etzion, would remain as part of Israel regardless of the establishment of a PA state.
"In looking at the history of the Bush administration, there were no informal or oral enforceable agreements," she said.
Several hours after the meeting, she was rushed to the hospital for a fractured elbow which she suffered in a fall while on her way to the White House. She will undergo surgery next week and is expected to resume full duties soon.